The choice of resistant nail polish for me has long been a sore subject. Especially since a child appeared in our family, and homework has increased significantly. First of all, the hands began to suffer. A nail polish with a constant contact with water lasts a maximum of a couple of days.
I was puzzled by the search for the most resistant varnish. I bought several new brands and decided to test their strength. Below I write my impressions, can this information be useful to someone.
Quick-drying varnish from Bourjois


Price: 219 rubles. (on the rally in le de Bothe), in the Lethuan network costs more than 400 rubles.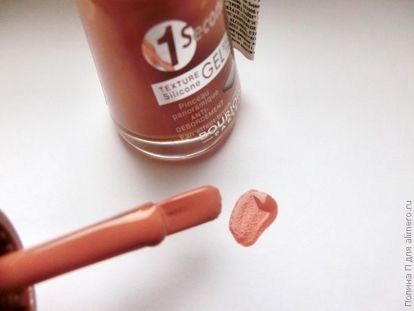 It really dries pretty quickly. Of course, not 1 second, as stated. Rather, 1 minute if applied in 2 coats. Keeps on more or less, about 2-3 days, depending on the amount of homework.
In Bourjois, I also used lacquer 10 days, which, as promised by the manufacturer, should last 10 days. Well, yes, in principle, he held out a little longer. Not 10 days, of course, but so, day 3, maximum 4. Of the minuses in Bourjois, I would note the limited color range and too high a price for a mass market.
Conclusion: for almost the same price, you can buy OPI varnishes, which I will do next time.
Salon Manicure from SallyHansen


Price: 276 rubles. (on the gold card in Letual)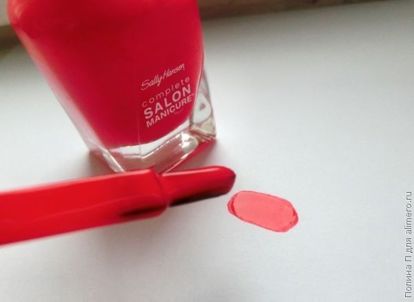 I tried different Sally Hansen series. Salon Manicure seemed a little better than Diamond Strength, for example. On the nails kept longer. Perhaps it was only this shade that turned out to be too bright, almost fluorescent.
Conclusion: I put 4. Probably buy again for the lack of alternatives.
Rimmel Salon Pro with Lycra


Price: about 200 rubles. in Letual (I got the stock for free)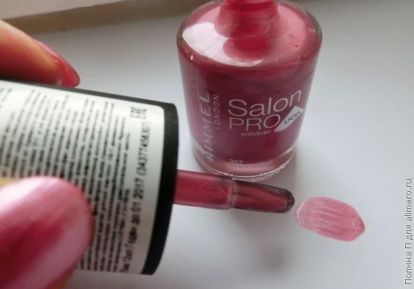 This varnish of the above I liked the most. I stayed on the nails for 3 days, then I applied an additional layer and went on for another day 2. I liked the shade of lacquer. It peels off neatly, not in chunks.
Conclusion: In general, I put 4 with a plus. Normal lacquer and at a price fairly affordable. Buy more.
Anny
Price: 349 rubles.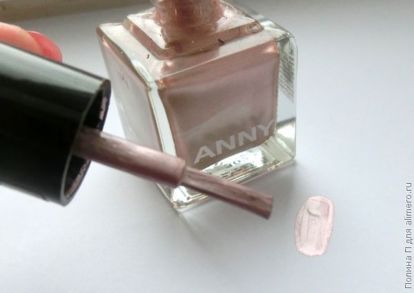 A brand I did not know, accidentally stumbled upon her stand in Ильle de Bothe and decided to try. Luck did not like at all. Very unstable, peels off from a nail already by the evening, and with pieces, very inaccurately.
Color is also not pleased. I understand that I chose it myself, but I did not think that it would be such a too steel and unpleasant shade.
Conclusion: except, in the trash, is no longer good. It's a pity to spend time on application, if it takes a few hours.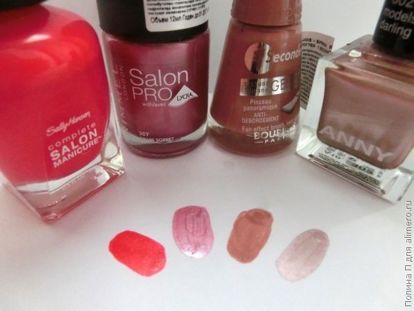 So far, of all the brands, more or less liked Rimmel. But I can not say that I found my perfect varnish. I will try further. What are your favorite brands?