I can not say that for me this is a frequent problem, but sometimes it happens. I once decided to analyze whether there is any pattern in the appearance of bags under the eyes. It turned out that there is.
I hold this opinion in life in order to solve a problem, first it must be studied. Therefore, I turned to the medical reference book in order to understand what bags under the eyes are and where they come from. From the explanations of experts, I made two conclusions.
Either the bags happen because of edema – and this is treated quickly and independently, or the reason is that adipose tissue grows. By the way, the latter can be connected with heredity. And with age. Then it is impossible to fight with such bags. Only surgery.
But this is not about me. Since my problem is only temporary.
Cause and investigation
So, I think we all know that if you drink a lot of liquid, then swelling appears. Including under the eyes. But absolutely not everyone knows that there will simply be no edema from water.
But if you still eat something salty, then in the morning in the mirror I see not myself, but some kind of monster. Therefore, before I eat my favorite salted fish, I will first think about whether it is worth it?
And yet, well, we are all human, it happens that we cry. And I sometimes sin it. Well, so tired, tired, so everything will accumulate. That for the flow of tears, a lot is not necessary.
I recently wrote about emotional divorce. So, on one of some very merry evenings with the clarification of the relationship with the former spouse, I then cried half the night. God, how beautiful I came to work the next day.
It was not even bags under the eyes, but loaded carts. But by late dinner, they left on their own. I didn't even do anything.
Another well-known reason is computer work, or games, screen reading. Who what. I often work. Eyes get tired and as a result – bags under the eyes.
And as this trouble can happen from an excess of ultraviolet radiation, after a stormy party with alcohol and other causes related to health problems. But I do not want to touch them. Still, I'm not a doctor.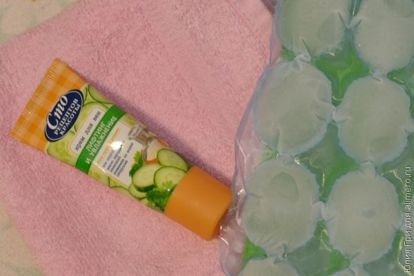 First of all, everything that may affect their appearance should be excluded: salty food, a long seat in front of the monitor, a lot of sun. In the end, if you really want, then you can by a little bit.
As for the computer, do not forget to take breaks more often and give your eyes a rest.
There are also wonderful cosmetics: eye creams. But here we must remember that no cream will not give an instant effect. This is primarily hydration or nutrition.
But there is a gel for the eyelids – it is cooler and gives a refreshing effect. To combat cosmetic bags, it fits better.
I also have a great help from ice packs. But you can't just put ice cubes for ever! Through a handkerchief or towel. That the effect was refreshing, not freezing.
In general, it is very easy to live without sacks.
Have you encountered such a problem as bags under the eyes? And how did you fight it? Share your recipe!