The problem of acne is faced by 90% of all people. Acne can ruin not only the appearance of a person, but also his mood.
I faced this problem in my teens. The acne on my face made me suffer and spoiled my whole life.
Adolescence remained in the distant past, and the tendency to rashes on the face is still there. By trial and error for myself, I have compiled a certain algorithm of actions that helps me not only to get rid of an unexpected pimple, but to prevent its occurrence.
The main causes of acne
Acne occurs during hormonal imbalance, for example, during puberty in adolescence. At this time, the body begins to produce a large number of sex hormones, which increase the activity of the sebaceous glands and clog the enlarged pores.
Malnutrition may also affect the onset of acne. The abuse of sweets, fatty and spicy foods, alcoholic beverages and caffeine can contribute to their appearance.
The most common cause of acne is wrong skin care. If you do not clean the skin every day, its pores will be clogged with germs, dust, keratinized skin particles. This will lead to inflammation of the skin ducts and the appearance of acne.
Quick cure for acne at home
As a rule, acne on the face occurs at the most inopportune moment – on the eve of an important event or meeting. I want to recommend several proven recipes that will quickly help eliminate minor troubles and improve the skin condition.
One important rule to remember is Acne can not squeeze out! A small squeezed pimple can turn into a huge, long non-healing wound. Moreover, there is a high risk of infection, which can lead to serious health problems.
If your skin is prone to permanent rash, your medicine chest should always be 2% salicylic acid solution, which has a peeling, drying and antibacterial effect on the skin.
Apply a few drops of salicylic acid on a cotton pad and rub your face. This procedure can be used no more than 2 times a day.
A wonderful remedy for problem skin is camomile tea. Warm compresses will not only relieve irritation, but also reduce skin inflammation. Such compresses can be done an unlimited number of times during the day.
Getting rid of acne will help quickly white clay mask. Dilute white clay with water, apply on face and keep until completely dry. Clay is able to pull out from the pores all the pollution, dry acne, remove redness and inflammation.
Good results will give and mask from bodyagi. Bodyagi powder can be purchased at any pharmacy. To prepare the mask, mix the bodyagos with water and apply on the skin. After 10-15 minutes, rinse with warm water.
Bodyaga is an amazing natural remedy, it deeply cleanses the pores, removes oily shine, smoothes fine lines. However, this mask has one major drawback – after applying it, the face turns red. Therefore, it is better to use at weekends or at night.
My favorite recipe for acne is mask of honey. Honey is not only a natural antiseptic, but also a storehouse of beneficial vitamins and minerals.
To prepare the mask, you need to mix in equal proportions honey and olive oil, add chicken yolk. Apply the mixture onto face and rinse off with warm water after 20 minutes.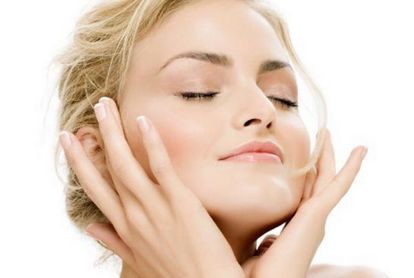 Home Acne Prevention
Acne is easier to prevent than to cure. By following a few simple preventative measures, you can remain well-groomed and attractive for many years.
The main preventive measure in the fight against acne – daily cleansing of the face. For this purpose, suitable special gels or foams for the face. Ordinary soap is better not to use, it dries the skin.
For a deeper cleansing of the skin once a week you need to do peeling. The peeling must contain very small particles and do not injure the skin.
For my skin, I prepare peeling of coffee grounds. Coffee grounds after drinking coffee mix with yogurt in equal proportions. I apply this mixture on the skin and gently massage it for several minutes.
Acne prevention is also healthy food. The basis of the diet should be vegetables, fruits, lean meats, dairy products.
Finding laziness, you can easily cope with acne and be not only healthy, but also happy!