I like nail polishes with glitter and all sorts of glitter. They look elegant and long held on the nails. Only here it is difficult to remove them. I'll tell you how to quickly erase a glitter varnish.
To paint nails with nail polishes with glitter is very appropriate for all sorts of holidays and parties. Glitter will replace the jewelry and will draw attention to the hands.
Before, I didn't really like these varnishes. Yes, beautiful. Yes, resistant manicure. But what a pain to erase then it! For half an hour I sat and soaked my nails with nail polish remover.
Tearing off sparkles scratched the nail plate, and the wash dried out the nail and cuticle. Yes, and for one removal procedure took half a bottle of nail polish remover.
But recently I learned how to quickly get rid of the shine on the nails. Now I am happy to paint my nails with glitter varnishes.
At first glance, the method may not seem the easiest and most convenient. But believe me, you will spend a minimum of time and do less damage to your nails, as if you just rub them off.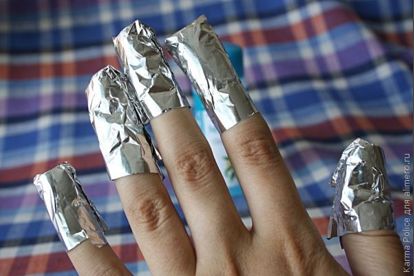 7. I sit with iron hands for 3-5 minutes.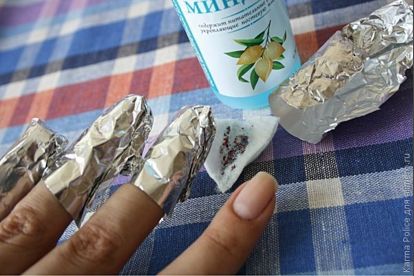 8. Then unfold the foil one by one. With a slight movement from the base of the nail to the free edge I remove the cotton pad. All shine remained on the disk, the nail is clean! Well, if a couple of spangles remained, then they are not tightly stuck, they are easy to remove with the net side of the disc.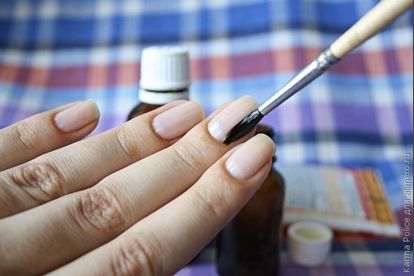 9. I am going to wash my hands to wash off the remnants of shine. And then I smear my hands and necessarily nails with cream, special wax or oil.
Yes, this is not the most harmless way to remove nail polish. Trays from nail polish remover clearly do not bring much benefit. But scouring each nail in turn is much longer and more traumatic for the nail plate.