I think many women are faced with a situation when the varnish doesn't want to fit on their nails: it slashes, then slips and does not want to level, it suddenly becomes blistered. In this article I will tell you how you can significantly reduce the risk of such troubles.
First, you need to take into account the texture of varnish. Can highlight multiple textures:
1) Lucky creams. A lacquer without large glitter (glitter) and without small glitter (chimmer) looks similar to enamel. Opaque, falls tight. If the lacquer of such a texture is liquid, then it can be applied in two layers – so the color will be especially dense, glossy, bright. But if the varnish is thick, then it should be applied flawlessly from the first layer, since the second layer will dissolve the first and bring it in, forming ugly stains (usually near the base of the nail, where the brush is somewhat stronger than the nail). Important smooth surface of the nail.
2) Lucky Jelly (glass) translucent lacquers, even when coated in several layers, remain translucent. May include a shimmer. Such varnishes can and should be layered – so they will look like a frozen multi-colored glass. Have a viscous structure.
3) Pearl varnishes – varnishes containing a very large amount of micro-scale, because of what they create a gently iridescent coating. When applying such a varnish, it is very important to make the nail surface smooth, because such textures very much emphasize all the irregularities. In addition, this varnish can strip – the brush does not quite uniform coat the varnish over the nail and areas with a more dense layer look lighter. Only training will help here, because each varnish behaves differently, it is necessary to adjust to each. Important smooth surface of the nail.
4) Shimmer varnishes – in such varnishes, shimmer is larger than in nacreous, therefore it belongs to the category of problem-free ones. This varnish is needed in case of haste – it can be evenly and firmly laid in one layer.
5) Glitter – varnishes with very large glitter, which usually swim in a transparent varnish. Spangles can be of different sizes and they can be larger or smaller. In some varnishes of this type, when painting, it is not necessary to brush up skillfully with the brush on the nail, distributing the sparkles in an even layer so that they are uniformly on the nail. And besides, sometimes hexagons can stand on their backs and puff up from the surface of the lacquer, then they need to be gently smoothed with a file and covered with a transparent lacquer (optional).
6) Matte – also trouble-free – applied evenly, in a dense layer, as a rule, hide nail irregularities. But only dark colors are winning.
7) Lucky Sands – due to the large number of glitter and grains, the base dries out, it becomes thinner, and the whole glitter sticks out, forming an uneven, as if spattered semolina surface. As a rule, they reveal their potential on the second layer, and the first one looks too thin. They are badly washed off – the nail should be thoroughly soaked with a cotton pad moistened with ZHSSL, and only then washed with longitudinal movements from the cuticle to the edge of the nail.
8) Holographic – varnishes, which contain sparkles, cast in different colors. That is, the lacquer itself may be black or even green, but a rainbow of colors will play on its surface. Important smooth surface of the nail.
9) Chameleons – varnishes that change color depending on the angle of incidence of the light and the quality of the light (muted, cold, warm, sunny). Since they are similar to pearlescent in texture, the same problem is present – to varnish your nails as evenly as possible. Important smooth surface of the nail.
10) Craquelure – varnish, after some time begins to crack, exposing the varnish substrate. Varnish substrate should be a contrast, but still combined. In order for the cracks to turn out beautiful and large, it is important to apply varnish in one run – without going over the already covered area again with a brush. From above, it is imperative to cover it with a top so that the cracked islands do not tear off the craquelure from the varnish substrate.
11) Varnish Mica It contains large pieces of fine mica. When applied to the nail, mica looks with contrasting spots on the background of the rest of the nail. It is also necessary to tinker with it, laying on the nail a uniform layer.
Showing different varnishes by example. First, a complete manicure chameleon Dance Legend in the shade of Boggs. Photographed, catching the rays of the lamp from different angles to show the full range of colors.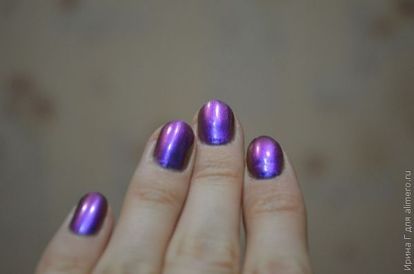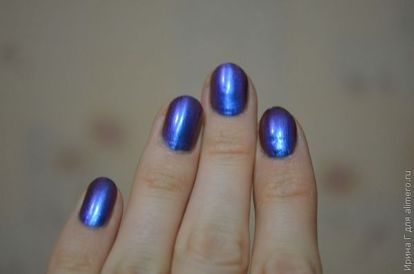 The manicure in the photo celebrates the anniversary – 3 days, so that he can be forgiven for some wear.
Now look at a few other textures.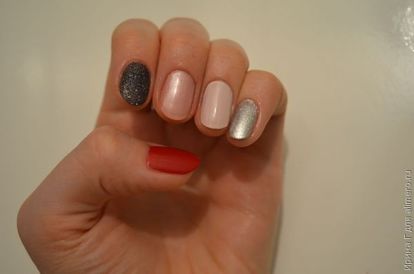 All varnishes in the photo are laid in two layers. But beige cream Golden Rose in shade 52 on the ring finger is clearly asking for a third, and the silver shimmer Classics (worn off shade) on the little finger requests top. On the middle finger, if desired, you can see banding, but in principle it looks selene (again, I can not tell shade) decently. Elegant sand on the index finger Golden Rose Holiday in a shade of 60. Well, my thumb is red selene in shade 200, matt transparent lacquerFennel satin.
I suggest to take a closer look at the sand. Photographed in the light of the sliding on the nail, so that all the roughness can be seen. Hope, sandiness can be seen.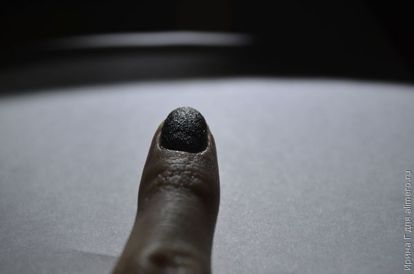 Unfortunately, I personally can not demonstrate jelly, which was not at hand, mica varnish, which I actually faced once in my life, holography, which I have not and did not have, as well as the craquelure, which I do not like. But for such varnishes enough reviews on the Internet.
After reviewing the features of each type of varnish, can be said about the problems, which may appear when applying any of these varnishes:
1. Pbats usually appear when lacquer layers are applied generous and not dried. Ideally, the varnish should be applied in two or three thin layers, giving everyone at least 15 minutes to dry.
2. Propleshins easily corrected with a second coat of varnish. In general, one layer almost all varnishes look less advantageous than in two layers.
3. Fromcolas on the tips of the nails you can delay if you cover the nails with a good topcoat, but there are some perfect finds – for example, my penny-clear varnish (not even the top) tightly nails the lacquer base to the nails, and they can be worn for up to 5 days
four. top at the same time can bind varnish It is difficult to describe in words, so I just attach a picture from the Internet, because I haven't met this one myself.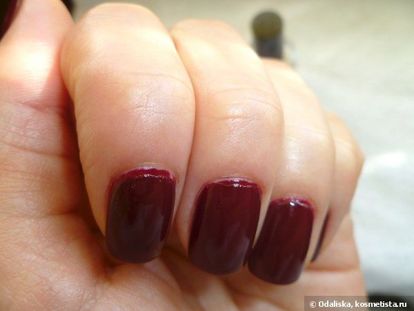 Such a problem may arise for a particular combination of lac-top, to solve it, you can simply try using a top coating with varnishes of another brand.
In general, it is important to observe a few for a perfect varnish. fundamental rules:
1. Nails must be dry.
2. Nails must be degreased.
3. Each varnish coat should dry out before applying the next.
4. Neat, smooth, not very pressing movements of the brush.
5. No temperature drops during application and drying.
I wish you all smooth nails and thin varnishes!