To be honest, I always pay attention to women's faces, acquaintances and strangers. Even in just a few seconds, I can draw an image for myself, mark the details of the make-up, and then, to myself, disassemble them by bone: what was appropriate and what was not.
I must say, there are people with an innate sense of taste. This is manifested in the home, in the workplace in the office, in clothing. In make-up too! If not, it's harder. Only I believe that hopeless situations do not exist! In short, there is no gift, we must learn!
As for me, in our time it is a sin to complain that you do not know how. So much information around. There are more than enough paid courses. There is no opportunity to go for them, there is always a way to find information: at least in different brochures of the same cosmetic companies, even on the Internet, where there is a lot of articles, master classes, video tutorials. See how much you want, read how many fit! It seems to me that the main thing is to do something, and not just whine. I do not know how.
Shadowing
Like it or not, the first thing that usually catches the eye when meeting, when communicating, is eyes. Not ear, not chin. It is the eyes. Therefore, we always attach great importance to their make-up.
For the color expression of the eyes, we are responsible mainly for eye shadow and mascara. As for me, there is no point in giving special recommendations for coloring the eyelashes, here it is clear that you need to paint with a brush from the roots to the ends, and not vice versa)))
With shadows more difficult, but not so much. It seems to me that the basic rule is: you need to know where the tones should be located. To do this, I will place a visual photograph.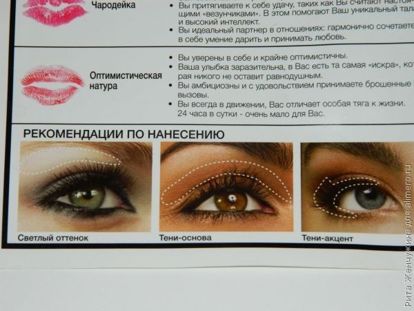 Look carefully where the lightest shade should be located, where the shadows are the base. Very, very much depends on the accent shadows. Of course, here the name itself speaks for itself.
Study, study and study again
For some reason, many believe that it is shameful to learn, shameful. Better me and scream at every corner I know everything! I know it better than others! As for me, you should always learn. Not because we are so stupid, but because something simply flies out of our heads, something we can not remember. There are various new cosmetics, new technologies. It is not a sin to learn, especially from good masters.
I consider the excellent training means the finished images with the indication of the used cosmetics. With the help of such programs you can find out what tools you need, what color range. As for me, they are in many ways good just for learning the harmonious combination of shades. I picked up a few options, look.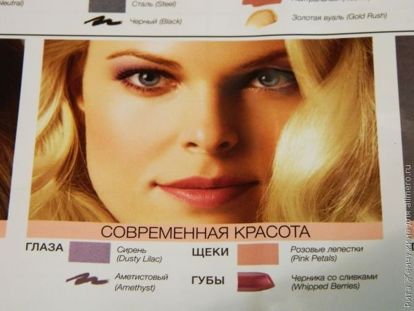 It is necessary to choose the appropriate image and try to repeat it once, twice, three, and so on until it works out at a decent level! Then another that you like. As for me, the trouble of many girls is that they neglect such moments and believe that they will make a beautiful make-up without samples. Someone really does it, but not all.


In order to make the makeup harmonious and generally succeed, you need to spend effort. Remember this and do not be lazy!