Do you have personal signs received by experience? For example, for me, how good it will be to make up my lips in the morning, so well a day will pass. Tested more than once. Anyway, you have to master the technique of perfect lip makeup.


Lip care


It's no secret that it is better to apply cosmetics on healthy smooth skin. This applies not only to the skin of the face, but also to the lips. Personally, my lips are very tender, so they can be rough and cracked not only in the bitter cold, but also on a hot sunny day if a breeze blows.
In winter, I am saved by hygienic lipstick. And I apply a nourishing extracting moisturizer for the night at any time of the year.
Regardless of whether I do a full make-up, including a basis, blush and arrows, or I paint only eyelashes – lips always emphasize.
Secrets of applying a lip liner


Checked by my own experience, a pencil when lip makeup is a must. He makes the contour of the lips clearer, the make-up of the lips is neater. Therefore, I start by drawing a contour with a pencil. I pick up a pencil a little darker and brighter lipstick.
I read that dark and bright colors of lipstick are suitable for girls with dark skin, and for white faces it is better to give preference to light natural tones. I refute this statement. Although I have very fair skin, it is bright, rich tones that help to highlight the lips against the face.
The first conclusion: trust only your own reflection in the mirror.


First draw the central part of the upper lip.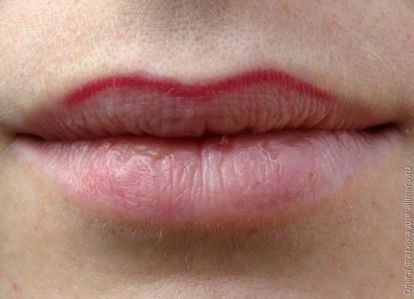 If the outlines are clear and the same – great, if not – I wipe and take the pencil again.
Then with a soft oval I draw the lower line of the lips. And again: it turned out – well, no – you can erase it.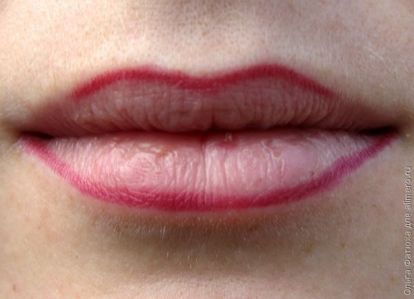 Finishing the upper contour of the lips.
I like my natural lip shape, so I traced my lips exactly along their contour. If the lips are too full, you can draw a contour a little less than natural, if narrow – on the contrary, a little more.
Finishing touches


To make the lipstick last longer, light touches of the pencil completely paint over the entire lip area. But so that the contour still stood out a little brighter.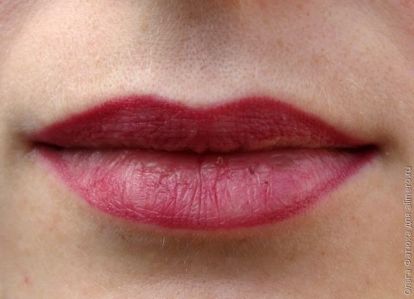 Then apply lipstick in a thin even layer. It is advised to use a brush for applying lipstick. But for me personally, it is not convenient to do this every day, and without constant practice it turns out badly.
Conclusion two: it is better to do as you are comfortable.


To give the lipstick a more opaque shade and fix it on the lips, you can slightly powder the lips.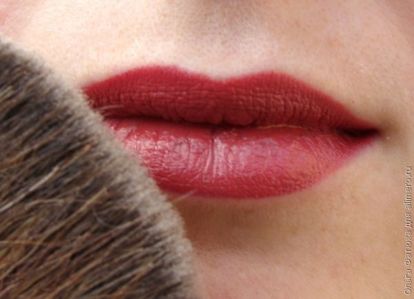 Makeup lips ready. Judging by the result, today will be very successful!