The eyes are the mirror of the soul, and not only. By the eyes you can identify a person who is sick, sleepy, tired, or healthy, happy and joyful. To make a positive opinion about you, follow the state of your eyes, give them a few minutes of your time.
The spring season of fresh fruits and vegetables begins and now you can begin to put slices of vegetables and fruits tired from the cold and frost on your eyelids: cucumbers, apples, apricots, soaked dried apricots.
If in the morning you have swelling of the eyes, then wipe the areas around the eyes with ice cubes from the inner to the outer corner of the eye, then lie down with thin slices of apples on the eyelids and around the eyes. Apple juice will lighten the skin a bit and remove bruises.
Often I make lotions from chamomile and lime blossom. I pour the flowers with boiling water, insist 15 minutes, immerse cotton swabs in the infusion and put them on the eyes. After 15 minutes of calm and aroma of chamomile and lime, my eyes glow with happiness =)
Since the skin around the eyes has very few sebaceous glands, it is subject to rapid aging. To delay the moment of the appearance of the first wrinkles, use special creams for the skin around the eyes. These creams differ from face creams in that they contain a greater amount of moisturizing ingredients that nourish the delicate skin around the eyes.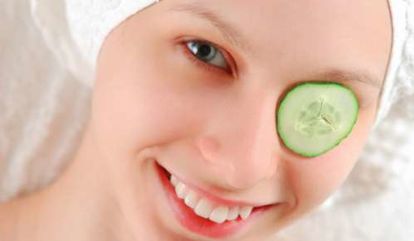 For owners of bags under the eyes, to which I belong, I can advise masks that will help remove treacherous bags out of sight:
1. Rub potatoes on a fine grater and mix it with 1 tsp. wheat flour and 2 hours l.m. milk (you can only use potatoes). The mask should be put on the eyelids and held for 10-15 minutes.
2. Make a slurry of avocado and hold on the eyelids for half an hour. Avocados can be alternated with slices of cucumber or mashed potatoes, cooked in the uniform.
3. Grate parsley root (you can alternate with carrots – carefully it can color the skin yellowish) and hold on the eyelids for 15 minutes.
4. Disposable tea bags pour in boiling water, send to the fridge for a while, and then forever for 10 minutes.
5. Put the potato slices in the freezer for 10 minutes, then send them for 10-15 minutes for ever.
After any of the masks described above, you need to wash and put a little cream for the skin around the eyes into the area under the eyes.
To make the bags smaller, or not to show themselves at all, try not to drink liquids at night, get enough sleep, rub the skin around the eyes with tea or herbal ice.