Hand care during the winter period has its own characteristics, since it is at this time of the year that the skin of the hands is exposed not only to the aggressive effects of cold, but also to the detrimental effects of dry heat in rooms.
I want to share some of the secrets of hand care at home. Observing simple rules and applying some popular recipes, you can forget about such winter problems as dryness and tightness, and also prevent the appearance of the first wrinkles.
Hand care tips at home
Hands should always be washed only with warm water. Hot water defats and dehydrates the skin of the hands, cold water makes it rough and tough.
All household chores: washing dishes, washing, cleaning, should be done in household gloves.
The advice of psychologists helped me get used to gloves. They claim that a person's habit for anything is produced in 21 days. If you force yourself to wear gloves for only three weeks, a persistent habit will appear and detergents will never eat away at tender hands.
For hand washing at home, you need to use only high-quality toilet soap or gel. Only such products are able to protect the skin from drying hands.
To carry out hand care at home with the help of moisturizing and nourishing creams. It is desirable to apply the cream on the skin several times a day, always before going out and after washing. In order not to forget about the cream, you can place several tubes in different rooms.
Folk recipes for hand care at home
The basis of the recipes that I use for hand care are sea salt, olive oil and various essential oils. All these components have wonderful properties – to nourish, moisturize, protect and heal small cracks and cuts.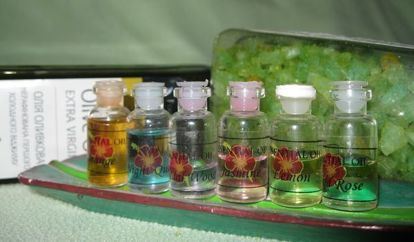 Sea salt hand scrub
Mix fine sea salt with crushed crustaceans of mandarin or lemon, add 2-3 drops of any essential oil and immerse your hands in the bath with salt. Light, massage movements rub salt over the skin. After rinsing hands with water and apply a nourishing cream.
Sea salt contains a lot of beneficial trace elements and not only has a beneficial effect on the skin of the hands, but also strengthens the nails.
For nails, the best essential oils are lemon and ylang-ylang oils.
They level the surface of the nail, whiten and strengthen the nail bed.
Nourishing cream with olive oil
For the preparation of this cream you need to take any tube of hand cream, you can not expensive, but with a pleasant smell, and mix it with a small amount of unrefined olive oil. Olive oil can be replaced by cocoa butter, avocado, peach, almond, etc.
From adding oil, the cream will become more dense and heavy, respectively, it will be better and longer to protect your hands from adverse effects. Due to the fact that this cream is absorbed into the skin longer, it is advisable to apply it overnight.
Also in the cream should add vitamins A and E. They are produced, usually in capsules and can be bought at any pharmacy.
In such a cream should not add essential oils. They do not stand the neighborhood with industrial cosmetics.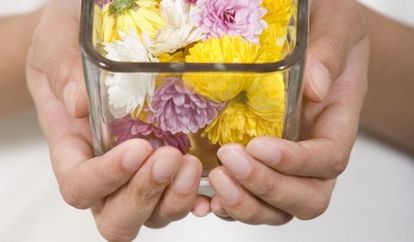 Beeswax Protective Cream
For the preparation of this cream, which is more like an ointment in its properties and texture, it is necessary to prepare 2 tsp. beeswax, 5 tsp. base oils (olive, peach, almond, etc.) and essential oils.
Melt beeswax in a water bath and mix with base oil. When the mixture has cooled, add vitamin E and essential oils. With essential oils, you can safely experiment and find the recipe that will appeal to you.
I recommend adding lavender oil to this cream, it will quickly get rid of flaking and roughness, remove scratches and cuts.
It is very important to care for your hands from a young age. Only in this case they will grow old very slowly and not give out the real age.