You should always look good, even after a busy day in a dusty city. How to come home and not be horrified by your reflection in the evening? What you need to do to makeup lived happily ever after?
Before describing all the procedures, it is important to specify the sequence of makeup application:
5. Pencil / eye shadow / eyebrow wax
6. Eye primer
9. Mascara
11. Bronzer and contouring
12. Blush and highlighter
Understandably, this entire list is not an easy daytime makeup. Some items can be safely skipped, some swapped (for example, when applying dusty, crumbly, crumbling shadows, it is better to start with eye makeup, and then wipe the crumbled particles with a cotton tonic disc and only after that apply the tone). But what nuances can be noted?
For a long time was considered something from the field of professional cosmetics, accessible only to the gods and necessary only for particularly important celebrations. This is already in the past. Now the primers are not uncommon, you can find good options for everyday for a reasonable price. Primer has a number of magical properties:
-smoothes the skin (hides pores, makes fine wrinkles)
-absorbs excess fat on oily skin and moisturizes dry, flaky skin
-improves the adhesion of the cosmetics to the skin, i.e. the foundation does not float away, and the shadows do not roll
A tone is applied to the prepared skin. You can apply it with your fingers, brush, sponge. Different textures of the cream behave differently when applied in different ways. For example, a thick cream when applied with a brush will lie too tight, it is recommended to distribute it with your hands – warming from their heat, the tone will lie softer and more even. Moist sponge liquid tone will be applied in a thin layer, and the dry sponge can put tonal bald spots. In addition, the skin type makes adjustments. Therefore, the question What tonal how to apply? unequivocal answer and can not be.
A concealer (only if it is not green or yellow) is applied on the foundation. Forget everything that was once printed in magazines and talked on TV. If you apply the tone on concealer, then the first of its structure dissolves the second and removes from the position. Concealer, due to its more dense and dry structure, will simply lie on top of the tonalnik.
Concealer and tonal need to be powdered. Moreover, if the foundation does not always require powder fixing, then concealer must always be powdered – because of its more dense structure, it is more likely to sink into pores or wrinkles, and powder will help to avoid this.
About eyebrows say nothing special, each woman draws them individually. Someone paints eyebrows with paint in order not to cast spells on them every day, someone uses shadows, and someone uses pencil. One thing can be said – the main thing is that the eyebrows look neat. This can help wax or gel, fixing hairs in place.
Eye Primer
It is necessary for those whose eyelids are too greasy (this trouble has bypassed me). It works the same way as a primer for the face – it takes excess fat on itself, protecting and keeping the shadows. Judging by the reviews on the Internet – a delightful thing.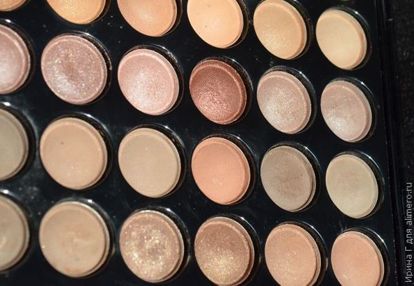 Can be distributed with both fingers and hands. Sponges, for the most part poor quality, only in the wet state can give a good uniform coating. Here, as with the design of the eyebrows, I can't give all purely individual and general rules for each type of shadows.
I propose to omit the next three steps, since mascara and false eyelashes are a matter of practice and personal taste, and you need to write a separate article about the arrows.
Bronzer and contouring
Bronzer can be used as a contouring powder, and to give a person a tanned shade and radiance. If the bronzer can be applied with a large round brush, then the contouring requires a small round or bevelled brush. I use Avon bronzing balls and apply them with a round, beveled brush. Beveled gives clearer lines. The contouring powder usually comes in a grayish-brown hue, but when shading it gives the face an incredible relief – the darkened areas look sunken. I do not use this myself, I am very afraid to become like a dracula).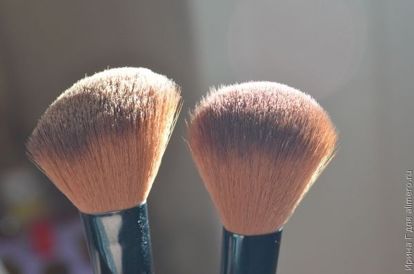 Blush and highlighter
Blush is applied with a large round brush or duofiber brush. The second, as a rule, is used for applying highly pigmented blush, as it picks up quite a bit of product and the risk of becoming a matryoshka is minimal. The highlighter is applied with a fan brush – it takes a very, very little product, besides, due to the small area of ​​contact with the face, the veil of the shimmer turns out to be very thin and natural, the face will not be too shiny.
It serves as a link for makeup, fixes it, gives the makeup a natural finish, removing the effect of multi-layer and dense coating. Well, the thing itself is not bad – it moisturizes and refreshes.
All these rules will act only with the proper selection of shades and textures – the skin should not be oily or overdried, the tone of foundation should be slightly lighter than your natural skin tone, the shadows should be combined with the color of the eyes and with each other. Blush should be combined with skin color, bronzer should not make you grilled chicken, and most importantly – you need everything in moderation!