It so happened that my friends are divided into two groups. The former prefer a natural look and paint only cilia every day, while the latter follow all cosmetic innovations and can distinguish the MAC shadow from Dior in their eyes.
Being between two fires, from a novice in self-care, I gradually turn to a clan who knows what highlighter is and contouring the face. However, while it is in theory, in practice I still use a minimum of cosmetics.
Reflecting on make-up and personal care, I still can not find a compromise and understand how much cosmetics for happiness do I need? Looking through the millions of photos of beauticians and dressing tables of other girls, I tried to determine for myself the minimum and maximum of the cosmetics I needed.
Frankly, at first I pounced on beautiful jars, boxes, palettes like a hungry beast! But having understood that I use only some things from acquisitions, I decided to stop.
Still, I did not want to organize a cosmetics warehouse and allocate a separate chest of drawers for all these things. Therefore, I have compiled a list of tools that I am interested in trying, but without fanaticism.
Face tone

To make the complexion fresh and monotonous, do not do without corrective means. Of course, on the ground there are nymphs who have perfect skin without reddening or bruising under the eyes, but I cannot boast with it. Being an office worker with chronic sleep deprivation, in order to feel like a fairy, one cannot do without special means.
• Required minimum

Foundation and powder. I cannot force myself to use both of them (and I don't know if I can ever make such a cake on the face), so I use a liquid base in winter and powder in summer.
Proofreaders and concealers. To hide obvious bruises under the eyes or redness, recently forced herself to buy a corrector. I can not say that my appearance has changed a lot. In principle, I had enough of the tonal tool, applied more closely to the problem area.
• Questionable

Base and primers for makeup. In theory, prolong the life of makeup, matting or highlight, protect the skin, hide the pores. Once in the store I got a probe with a silicone primer from Sephory. As a result, more than two times they did not use it, although the remedy still remained.
I can not force myself to apply so many layers, even kill. Yes, the pores smoothed, the skin became smoother, the tone was applied easier. But to the naked eye without a magnifying mirror the difference is not particularly visible to me.
Blush, glitter and bronzing powder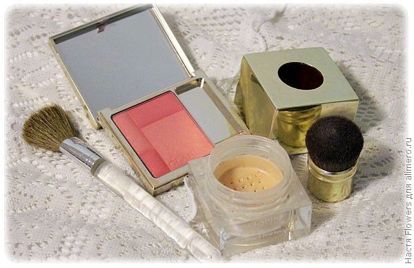 • Required minimum
Long thought, if I need a minimum of blush. Still decided to leave, although I do not use them every day. But, in my opinion, just one box with a suitable shade (peach or colder) is enough.
• Questionable

I think for fun you can buy several different rouge – matte, with a shimmer, dry and creamy. Those. four packs, still preferably slightly different in shades. Familiar with girls who have more than twenty blush! For myself, I do not imagine such an amount. Yes, and so far I only get around with blush, which consists of 4 sectors of different shades, among which there are also matte and sequined.
Highlighter, sparkles and bronzers are also questionable on my shopping list. It seems to be the effect of them, but I can not imagine that I had time to put all this money on my face in the morning. Therefore, so far, none of this has not bought.
Eyes: mascara, eye shadow, pencils and eyeliner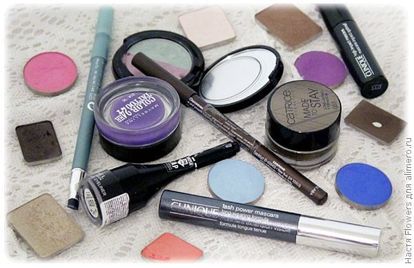 • Required minimum
I use mascara strictly according to the expiration date, i.e. 3-6 months, and then immediately throw away. There are so many varieties in stores that I want to try everything! But I hold on and open a new mascara strictly after discarding the previous one. The maximum at one moment I openly two carcasses, and even then rarely, because It's a shame to throw away half the used tubes.
Shadows, it seems to me, just a few pallets. One with natural brown and beige shades, the second color, matching the color of the eyes. A million shades of blue, green, brown, it seems to me, will not be noticeable before our eyes. Those. You can apply a pink color, and tomorrow lilac-pink, but in general the image will not change. Therefore, I see no point in duplicate shades.
Pencils and eyeliner in my minimal cosmetic bag of only two colors – black and brown.
• Questionable

Colored mascaras, bright eyeliners and a variety of palettes of shadows. No matter how much I buy emerald green, blue, purple eye shadows and pencils, colored carcasses, as a result, they lie idle. Maybe for more professional make-ups all these colors would be useful, but I can't do anything interesting with them, so I try not to buy more.
Eyebrows

It could not select a minimum and maximum. I think you need something one of the three: a pencil and brush, eye shadow and a brush for applying them or eyebrow gel. Now I have all three types of funds, I can not single out one thing. In addition, the expense of this type of funds is fast …
Is that the gel would be removed from the minimum cosmetic bags, although someone like it more than a pencil or shadow.
Lips: lipstick and gloss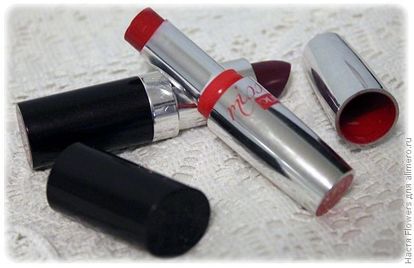 • Required minimum
Here in this subject my head blows. At one time I can buy 3-4 lipsticks … But in the end I use one natural shine for every day and bright red lipstick on the way out. I will bring them to a minimum.
• Questionable

Endless shades and textures of lipsticks and glitters. So far I can not restrain myself and not get a new tube, because so many beautiful flowers! Sometimes I buy lipstick just for an unusual color, like purple or black, but with my head I understand that they are not suitable for life. Therefore, now I try not to approach the stands with lipstick, otherwise … Well, in general, this is my Achilles heel 🙂
Brushes and sponges

In this matter, I have little experience, so I can not decide how much minimum brushes I need for makeup. For example, the tone can be applied by hand, or by brush or sponge. But which of these is better is not so easy to say.
Without a brush for blush can not do, but the powder can be applied and powder puff included. Lip brush seems to be needed, but in practice I have enough pencil and lipstick. Shadows can be applied with brushes, and someone is comfortable and sponges …
So how many cosmetics for for happiness need?

As you can see from the whole post, I'm still in thought and constantly adjusting the list of tools that I need or want to try.
Therefore, I am very interested to know your opinion on this matter – what do you use, and what do you think is a waste of money? On what account lipstick or mascara do you stop?