Continuing the series of posts about manicure, I want to tell you about one more of his form – the moon.
For its implementation will require:
– 2 varnishes in contrast, but combined shades, even with different textures
– round stickers
– arms growing from shoulders
In general, lunar manicure is called a French jacket on the contrary – in a classic lunar manicure, a lighter shade is distinguished by a hole at the base of the nail (moonula). This manicure is designed to emphasize this natural feature of the structure of the nail.
But moon manicure is not always natural. Lunula can grow, change shape, stand out with a darker lacquer, or even not be semi-circular, if a triangle is formed with the help of scotch tape.
In addition, lunar manicure is called a manicure, in which the second lacquer is applied not to the entire nail, but only on its center, thus at the base of the nail a sort of aureole from the lacquer substrate is obtained.
1. First paint the nail with a varnish. It may take 2 layers to prevent the natural moon from shining.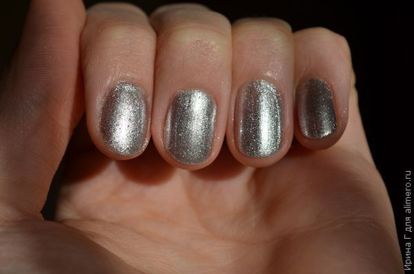 2. Then impose nakleechki. Ordinary stickers have too large a diameter for me, and the bend of the drawn moon is small, in the end the nail seems to be simply painted in 2 varnishes, separated by a horizontal line. Therefore, I use stickers left over from the stock in the store, which are ideally suited to my nail size. In principle, you can use a narrow tape for the same purpose – just glue it with a neat semicircle.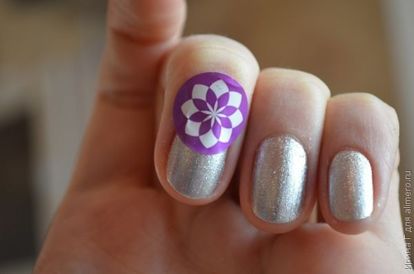 3. Paint the free part of the nail second varnish. Here it is important to lay it on one layer, the second will create an extra thickness, and after you peel off the sticker, the varnish joint will be uneven. I take off the sticker when the lacquer is still damp – after that it self-leveled and the edge of the second lacquer is very neat.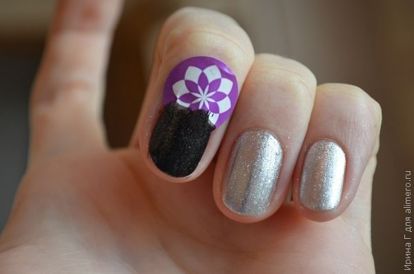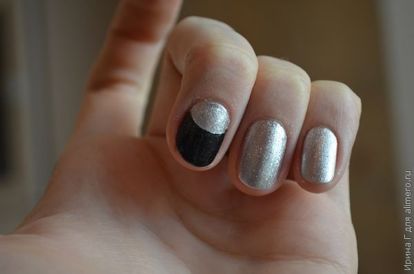 4. Cover all this with clear lacquer, wash off blemishes.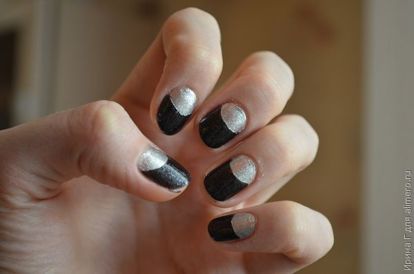 Here's what happened in the end: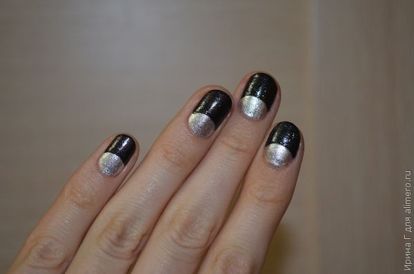 The second manicure is both simpler and more complicated – no stickers and scotchs are needed, but you need a hard hand, full of paint to draw a straight line at the cuticle. I think how this manicure is done will be clear from the picture.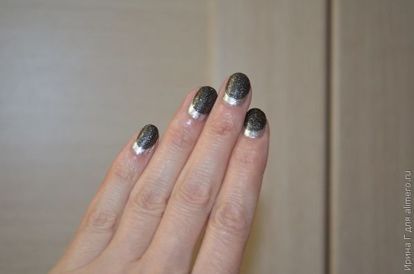 Approximately in the middle of the nail we put a drop of varnish and gently distribute it in a semicircle, leaving 2-3 mm free varnish-substrate. Such a manicure looks better on long narrow nails, and for women with short and round nails such a manicure is contraindicated – it will highlight all the flaws.