Hand cream with a delicious name Sweet lemon brand TianDe gave me a mother for one of the holidays. According to her, all of her colleagues are delighted with him. Therefore, mother, without hesitation, bought for us two tubes of this miracle remedy.
The skin of my hands can be called problematic. From about October until March, it is so dry that it often cracks and bleeding wounds appear. In this case, no cream could cope with this task, only briefly removed the dryness. But buying another hand cream, I subconsciously hope that it is he who will be a panacea for me.
Composition and packaging
The first thing I pay attention to is the packaging of a cosmetic product. This is not to say that this cream is packed in a special way. Among the other tubes, it is distinguished only by the bright yellow background color.
We can say that the packaging is decorated in the style of minimalism – on the front side except for the inscription Hand Cream and the volume of 80 ml no information is specified. All the necessary data can be read from the back of the tube.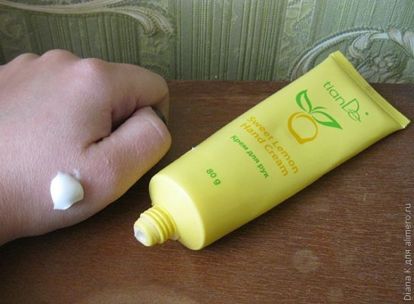 The manufacturer reports that, thanks to the complex of active ingredients that are part of the cream, the skin of the hands will receive intensive hydration and restore its protective properties. Also, regular use of Kema will help your ukam to get an excellent appearance.
The composition can not be called completely natural, but can not but rejoice the presence of glycerin in the second place after the water in the list.
Advantages and disadvantages
Hand cream Sweet lemon has a rather thick consistency and a white opaque color. Immediately after opening the tube, you can smell lemon. In my opinion, it is too concentrated and does not resemble natural. But this is not a disadvantage, since everyone has different tastes and, perhaps, this smell will seem pleasant to someone.
For me, it is inconvenient that the lid cannot be opened with one hand, since it needs to be unscrewed. But this is a matter of taste.
Despite the fact that I put on the skin of the hands a sufficiently large amount of cream, it is absorbed very quickly. Even half an hour after applying the cream there is a lemon scent.
Even my capricious hands, this cream has a good help. The skin after it becomes very soft and velvety, moisturizing well enough.
Of course, it would be foolish to hope that the usual hand cream completely relieve them from cracks, but still there is an effect from its use. I think that hand cream Sweet Lemon from TianDe will appeal to many!