I have long wanted to try the Horsepower hair care products. But for a long time I didn't dare to buy it, being afraid to let money down the drain. And in early December, my husband decided to please me, and he bought me a Melting Hair Mask of this brand. I share my impressions.
The mask is designed to power weakened and split ends. It contains components that prevent hair loss, stimulate their growth and make them soft, silky and smooth. By the way, I was very pleased that the mask nourishes both the hair and the scalp.
It is quite easy to use. It is necessary to apply a small amount of content on clean damp hair and leave for five to ten minutes. After this time has elapsed, rinse the hair thoroughly under running water.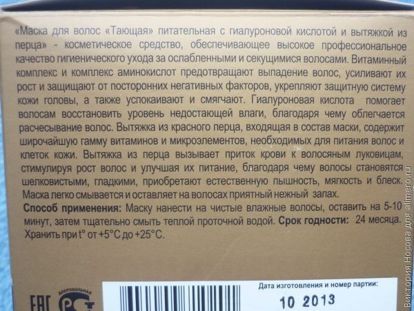 This mask is sold in pharmacies, as well as some supermarkets in our city (not all). A jar of 250 ml costs between 350 and 400 rubles. My husband bought it for 350 rubles in a pharmacy from the warehouse.
The mask contains a lot of vitamins and amino acids, oil of thirst, almond oil, extract of red pepper, as well as other substances unknown to me. Each of the components is responsible for a certain kind of impact on the hair or scalp, as described in detail on the packaging.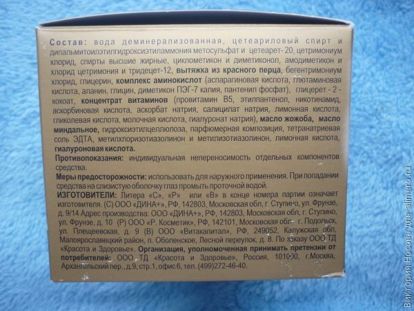 Impressions of use
I use this mask for almost a month. I put it on hair after each washing. The first thing I liked about it was the consistency. The mask is quite thick, does not spread, so it is very convenient to apply it on the hair and scalp.
On the color it is beige. The smell is somewhat cloying, but after washing it leaves a very light and pleasant aroma that lasts for three to four days.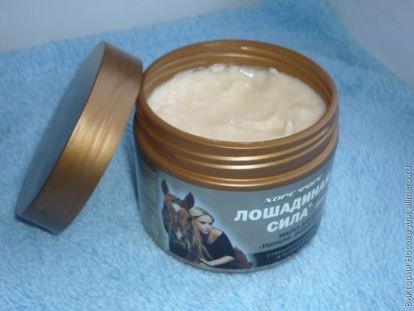 It is more convenient to apply it immediately after shampooing, when the hair is quite wet and slippery. This is due to the fact that almost immediately after application, the mask is quickly absorbed. Apparently, for good reason it is called melting.
After five to seven minutes there is a feeling of warmth. I think this is due to the red pepper extractor. But it does not cause any discomfort. The mask is easily washed off the hair, leaving a feeling of softness, as after using a balm.
After drying, the hair is soft, easy to comb. I did not notice that they stopped falling out and grow vigorously, but they look much more attractive. Moreover, with the help of a mask, I solved the problem of the fluffiness of the tips, which always had a place to be. And I got a good amount, holding up to three days.
The only inconvenience in its use is associated with opening and closing the jar. To do this with wet hands is almost impossible. You must first unscrew the top cover, and then open the second one. By the way, after the first use, I removed the second cap.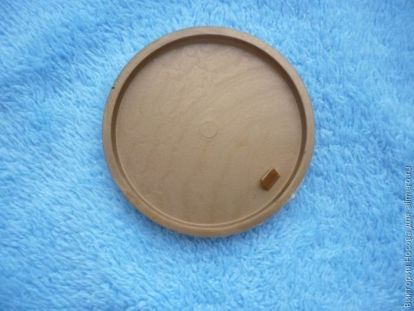 In general, this hair mask is quite good, I liked it. But, I think that its cost is somewhat overestimated. In my opinion, it is quite realistic to choose a mask that gives a similar effect at a more affordable price.
Did you use Horsepower products?