Girls, today I will tell about my pet for lips from Art-visage, which not only adds shine to lips, but also cares for them. This shine-balm Fruit sorbet in shade 12.
The manufacturer (Russia) promises intensive care due to the balm, and the gloss will make the lips exciting and seductive. Bisabolol, which is part of it, soothes, prevents the occurrence of inflammation, rosehip oil and macadamia nourish the skin. Gloss has a light fruity aroma and hypoallergenic formula. Can be used as a hygienic lipstick.
The glitter is enclosed in a comfortable transparent plastic small tuba with a screw cap of black color. Through the tuba visible shade. Under the lid there is a beveled applicator with a small hole, which gives the required amount of gloss – no more or less gloss does not show – just right.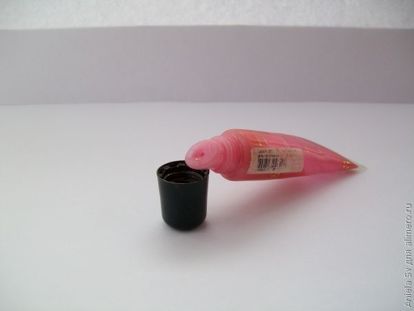 In the palette about 20 shades. Volume 12 ml. All the inscriptions on the tuba are made with high quality, for all the time of carrying in the bag nothing peeled off.
Hue and application
I have the shade number 12 – I chose it for versatility, shade is suitable for any makeup. The glitter of a beautiful coral-pink hue with a multitude of golden shimmers. Gloss has a pleasant fruity aroma, which for some time after application is felt on the lips, but does not cause discomfort. Glitter is easy to apply and spread over the lips, does not require a pencil.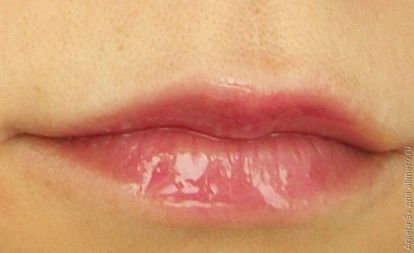 The lips do not spread beyond the boundaries, do not form a white strip. When applied, it gently envelops the lips, I feel it on the lips, but then I get used to it and do not notice it. Comes off evenly, leaving behind only a hint of color and sparkles, but it does not look vulgar. My lips really softens and heals small cracks.
Wash off easily with any makeup remover or micellar water. Spangles are also easily removed, it is easy for me to wash them off.
Worthy representative of the Russian cosmetics. A wonderful palette of shades and care properties in one bottle. And all this for a small cost. Definitely recommend I acquired brilliance for 119 rubles without a discount.
Have you tried Art-Vizazh cosmetics?