My eyelashes were never thick and fluffy. Especially I do not suffer from this, because you can always use mascara, and I don't really believe in the miracle effect of various serums for their growth.
At one time, for two months, I diligently applied castor oil to the cilia. It turned out, as in that joke, Hedgehogs were pricked, but ate a cactus. My eyelids were slightly swollen from the oil and my eyes were wildly watery, but I used it hard. However, in vain, I did not achieve a visible result.
Six months ago, I drew attention to the gel for the growth and strengthening of eyelashes in a tempting transparent tube with a comb. But once I was dissuaded from his purchase by my mother, the second – only an overdue copy remained in the window. But on the third I was lucky, and just for 120r. (30 UAH) I became the happy owner Gel to accelerate the growth of eyelashes from the Belarusian company Relouis.
Description and composition
If you believe the packaging, the consequences of applying the gel are simply amazing:
– nutrition and hydration
– protection against negative external factors
– flexibility
– acceleration of growth
The composition, enriched with natural ingredients, provides constant nutrition to the cilia from the inside, which gives them a healthy look.
Among the ingredients I have seen were: Panthenol (Panthenol), Kiwi Fruit Extract, Chinese Actinidia Extract (Actinidia Chinensis Fruit Extract). Urea and ceramides are also present.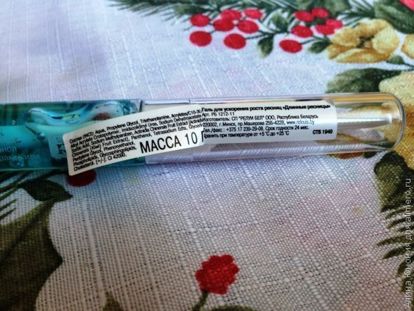 Externally, the bottle is very similar to mascara – the same 10g volume and brush. The cap has a built-in comb, which is very convenient to separate and comb eyelashes and eyebrows. Unfortunately, after 2 weeks of use, the transparent cap from the comb cracked and crumbled, I had to do without it.
The gel itself is completely odorless. What is very important for me (especially after applying castor oil) is absolutely non-greasy; after a few minutes there is not a trace of it left. Consistency usual, gel, with a pleasant blue shade.
Now about the main thing – about the result. After a month of daily application of this product (twice a day – in the morning and in the evening), my eyelashes did not get longer, but they really got a healthier and tidy look. They have become stronger and more elastic, which is noticeable to the naked eye.
Another nice bonus – this gel is perfect for shaping and fixing. eyebrows. A mascara can be applied in just a few minutes after applying the gel; this will not affect the quality of the makeup at all.
The remedy is rather good than bad. Rather, there is absolutely nothing bad about it – pleasant application, the absence of fragrances, natural ingredients in the composition, economical use.
Tube for 120r. (30 UAH) enough for at least three months. I will continue to apply it, because I am happy with the result.
And what eyelash care products do you use?