Today I want to share with you my feelings about the use of cosmetics GARNIER. I use this makeup recently and my impressions are mixed.
Here I will bring to your attention:
GARNIER SHAMPOO soft clay and lemon for normal and greasy hair;
GARNIER BALM-RINSTER soft clay and lemon for normal and greasy hair;
Refreshing vitamin tonic for normal and mixed skin;
Hand cream nourishing.
Shampoo and balsam conditioner



In the annotation, the manufacturer assures that this shampoo in combination with the balm-conditioner thoroughly cleanses normal and oily hair, giving it volume and freshness. This result is achieved due to the regulating properties of clay and the refreshing effect of lemon.
By purchasing these hair care products, I was flattered by the clay in the composition, because I know about its beneficial effects on oily hair.
However, the shampoo and conditioner appeared to be heavy for oily hair. Of course they clean them, but the effect lasts no more than a day, after which the hair needs washing again.
And I was disappointed by the smell. The promised fresh citrus aroma has a rather sharp aroma, in which citrus notes are hardly picked up.
Refreshing Vitamin Tonic
The manufacturer claims that this tonic gives tone, freshness and softness of normal and mixed skin, helps to eliminate toxins and impurities from its surface, and also creates a feeling of comfort.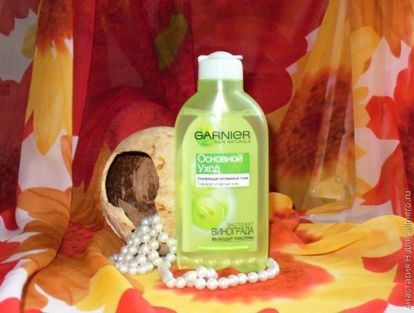 In general, I was pleased with this tonic. Unlike shampoo and conditioner balsam, it has a pleasant aroma and really softens and tones the skin.
Nourishing hand cream



I did not cause any special complaints and this novelty with shea butter and bifidobacteria. Manufacturers claim that the cream restores and nourishes the skin, and also contributes to the restoration of its natural barrier.
At the same time quickly absorbed cream retains its effectiveness for 48 hours.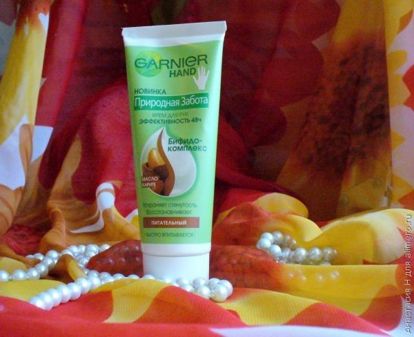 This cream is really easy to apply and quickly absorbed into the skin of the hands, but the effectiveness within 48 hours raises great doubts. Therefore, I apply it twice a day, the skin of my hands has really become softer and has ceased to dry.
For now, I'm determined to continue using GARNIER cosmetics with the exception of shampoos and other hair care products.