In my completely subjective opinion, gel polish is the second genius invention of humanity after the dishwasher (of course, in a world where nobody needs penicillin and products do not deteriorate without a refrigerator, yeah).
But seriously – gel polish is really very, very convenient. Especially if you do not have a housekeeper and your unfortunate hands have to wash the dishes (I highly recommend buying a dishwasher – it will pay off with happiness for 2 months), floors, peeling potatoes, washing the cat tray and so on.
How it all began
My relationship with the field of nail design has always been stormy. I started painting nails at the age of 14, and since then, personally for me, well-groomed hands are a definite marker of the well-being and general well-being of a woman. For all the past 10 years, I don't remember a single day so that my nails are not made up.
Some years ago, extended nails came into fashion – of course, I made them for myself. More precisely, the first experience happened to me in the 9th grade – then my sister, who was just beginning to learn this process, made me sad with 2-centimeter hoofs, which hellishly interfered with all banal everyday activities. But it was fun.
So, for about 2 years I regularly increased my nails. At first, of course, I wanted to be more genuine and more scant – I did not deny myself. Gradually, the realization came that this is a) inconvenient, b) ugly. However, there were no alternative ways to put your hands in order for a long time at that time, so you had to get out, reducing the length and increasing the brevity of the design.
Painted – and forgot
Happiness came to my house about a year and a half ago, when my classmate, a manicurist, wrote to me that she began to make a gel polish. At first the conservative was indignant at me – some kind of garbage! In the evening, having spent the next hour and a half on manicure and applying ordinary lacquer, I shoved my conservatism into the far corner and signed up for gel polish the very next day.
To say that I was pleased is to say nothing. Even taking into account the fact that my master at that time worked with the not the fastest-best UV lamp, and it had to dry each layer (out of 4) for 2 minutes, the whole process — manicure and covering — took less than an hour and a half. And I departed with this coating after 2 weeks, and it looked like new.
If the nail plate didn't grow back, one wouldn't need to do a manicure again at all 🙂 Nothing happens with the gel polish itself – it doesn't get cracked, it doesn't split off, it doesn't scratch – and it looks absolutely natural, no threatening claws. Just neat, well-groomed nails.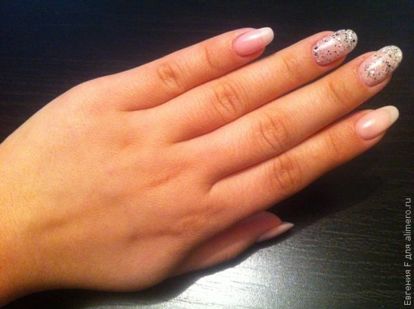 It is clear that the duration of the ideal type of manicure in this case depends on the growth rate of the nails, but at least one and a half to two weeks of flawless manicure with gel polish is provided to you. Tested on many friends 🙂
Have you tried gel polish? How do you feel?