I recently wrote that my Revlon PhotoReady foundation was coming to an end. I thought for a long time whether to buy one or try something new. As a result, I stopped at the fact that I would take something new.
For a long time I tried to find a bright shade among the suites, but they all looked dark to me. As a result, the consultant took me to the stand of the same Revlon, because there are some of the brightest shades.
I heard a lot about Revlon Colorstay foundation cream, so I decided to buy it. This tool is available in two formats – for oily and combination skin, as well as for normal and dry. I chose the second, because my skin is prone to flaking and dryness.
Manufacturer promises

The advertising company says that Colorstay creates a perfect smooth coating, evens out the tone, while moisturizing the skin. The foundation mattes, but leaves a healthy glow. This tool is very resistant, lasts 24 hours.
I heard not one laudatory ode to this remedy, plus the shade pleased, so I immediately bought a jar of 30 ml for 350 rubles.
Packaging and specifications

The foundation is hidden in a cylindrical glass jar with a black plastic cap. The packaging itself is transparent, so the color is immediately visible. Unfortunately, there is no pump under the lid, so the cream is very inconvenient to remove.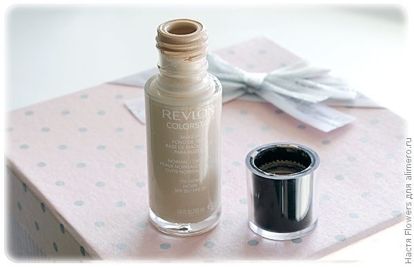 I always get more than I need. I think this is also not very hygienic, because constantly touch your fingers to the neck.
Colorstay has a strong smell, not very pleasant for me. The tool itself is quite liquid, but it quickly hardens, so you need to quickly shade.
I got the brightest shade – 110 Ivory. For me, it was color that became the determining factor in the purchase. This is one of the brightest shades that I managed to find (and I tried many tonal means in search of one that would not be dark on my skin).
In my opinion, this shade goes rozovinku, but on my face it looks normal.

My impressions

I have twofold impressions of this remedy. When applied, I feel a tingling sensation, especially if there is a flaking. The tone is well aligned, but when I look closely, I see it on the face, and I don't really like this effect. Plus, peeling is emphasized, if they are, from this tonal even more noticeable.
Colorstay is really resistant, but there are also disadvantages in this – it's hard enough to erase it. Not one wadded disc goes away.
It turns out that there are more minuses than pluses, but I still use it when there are no peeling or no way out on the face. I do not think I'll buy it again, but this jar is likely to finish.