I purchased vanilla pink shade foundation for myself, because it perfectly blended with the skin on the wrist. Usually I bought myself something darker, peach, or ivory hue.
The first time I started using foundation at 13 years old – my entire face was covered with acne and acne, I had to somehow hide them. Mom got some expensive foundation at work (like a Japanese brand, or I don't remember Korean) because he had a healing effect at the same time.
But the fact is that this cream was much darker than my skin, and it turned out that I was all so colored: light spots, dark spots. There was horror, and I, in order to hide the disgrace, were powdering it all with a thick layer of my mother's powder of a very bright shade.
Fortunately, those days are long gone, and now on the shelves are a lot of tonalok of various companies and a variety of shades, and there is something to choose each of us. And the technology of selection and application of foundation is already honed to skill.
Since my skin is very light, I have always been recommended two shades in stores – peach and milky. Always acquired only peach. And so, I decided to try a new shade, especially since maximum blending cream I have not met.
Cream cost matte skin magic 422 rubles per 25 ml.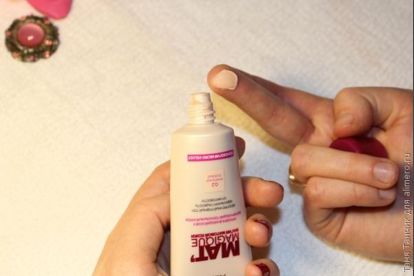 Cream properties
The composition includes special matting absorbent components, which should matte the skin for 12 hours and without mask effect.
The cream aligns the tone well, hides imperfections, blends with the skin, but from him the face seems too light. It is necessary to dilute it with blush and bronzer, otherwise it will be a solid white sheet, like a sick person.
How I apply foundation
The texture is really gentle and airy. My skin in the area of ​​the nose is always reddish from red blood vessels and acne marks that have remained forever since high school.
Because I put the cream in this area in 2 layers: I'll put it thinly with a sponge moistened in water and slightly squeezed onto red spots. I wait for it to dry, then apply a second layer over the first, and then over the rest of the skin.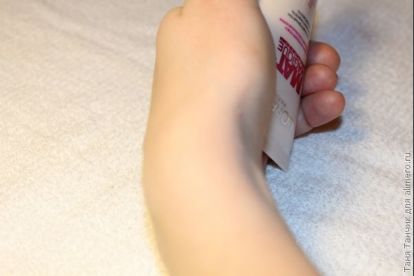 The cream perfectly hides this redness. Lips perfectly stand out and look circled and brighter. I don't even use powder with it, because my usually oily skin in the T-zone doesn't shine about as much as indicated on the package, that is 12 hours.
But in the photographs the skin of the face looks too pale – paler than in the mirror. I decided that all the same next time I will take for myself peach again.
And what shades of foundation suit you?