Today I want to share my impressions of the SS-cream, which means in translation from English – Color Correcting (corrective color). This novelty appeared to me for a long time. But I just decided to leave a review about him.
The CC lineup from L'Oreal has 3 creams:
1. Green – neutralizes redness.
2. Violet – mats dull facial tone.
3. Peach – revitalizes tired skin.
I thought for a long time which one to buy and stopped at purple.
Packaging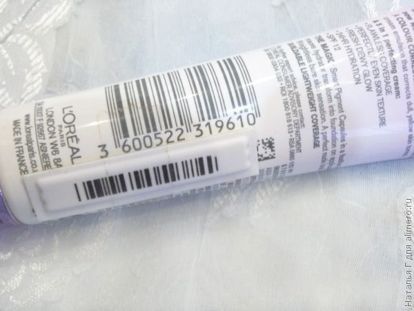 Plastic packaging looks pleasant. The lid is easily unscrewed.
If the bottle is stored while standing, the cream will be easy to use and it will be easy to squeeze out. And if you wear it in your purse or cosmetic bag, then it will be difficult to get the cream from the tube, all the time you have to press on the bottle.
The nose of the tube is comfortable, with the help of its cream can be applied to a point.
The volume of a tube is 30 ml. Manufacturer France.
The consistency of the cream is tender, thawing. But it is not fat.
When the cream is squeezed out of a tube and applied to the face, it is cheerful pale purple color. But when you begin to distribute it intensively on the face, the cream immediately changes color and becomes beige. Here is such a chameleon!
The smell is neutral. As for me, I don't smell like anything, if you don't smell it.
Personal opinion
The cream moisturizes and protects the skin from harmful UV. On the skin is not felt at all. After it the tone of the face is smoothed and the skin becomes smooth.
But, despite this, the cream has its drawbacks.
It does not have a masking effect. Slightly tones and mattes the skin. Acne and redness still visible. Therefore, I always use more powder to hide all the flaws on the skin.
I can not say that this cream surprised me with something. I would give him a C grade on a five-point scale.
The only good, affordable price: 92 hryvnia or about $ 8.