She replaces polkosmetichki. It is compact, and when you look in it, your eyes run away from diversity. Here, you and the shadows, and lipstick, and blush …
Guess what it is?
That's right, it's a palette! And in my case – the palette DARE TO DREAM from Oriflame.
Dreaming is not bad

The name of the palette translates as Dare to dream. Yes, dared, – any owner of the palette will answer and proudly look at her treasures.
A mirror is attached to this palette, which is illuminated on the sides with small LEDs and really creates some kind of sensation of a dream, a holiday.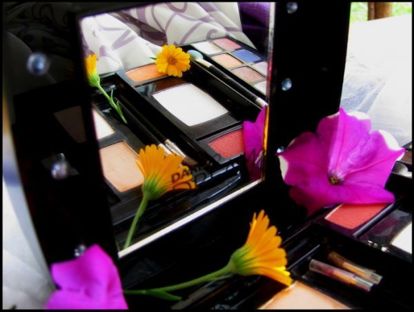 And the variety of cosmetics in the three-level palette is good news. There is almost everything here!
Shadow business

The first level is 20 shades of shadows. Some of them are mother of pearl. No matter what I wear, I definitely have the appropriate shadows. Lay down gently, but apply them better to the foundation. If you forget about it, erase 2 times faster. There are, of course, special basics, but does a student spend money on them? And with tonal cream they hold on pretty well. I can not say that all day, but everything suits me. Erasing easily, with any makeup remover or cleansing milk.
True, any palette has one drawback: there must be colors of shadows that you will not use. And for them, you still pay!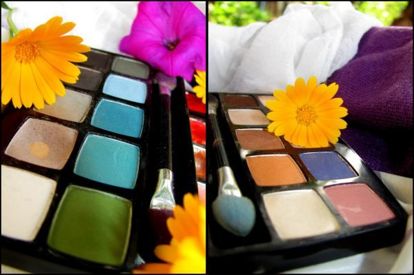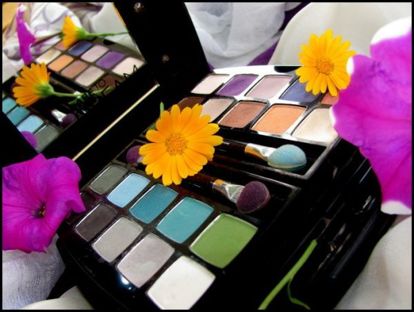 … Shika-Shine give.

At the second level – lipstick, lip gloss, blush, as well as pearl powder – gloss for the face.
There are plenty of glitters and lipsticks here too – five of those and five others. Shades – from dark brown to transparent. There are matte, there is – with pearlescent shine. They are perfectly applied with brushes, which are also in the palette. Gloss and lipstick very well kept and have a pleasant smell. It is a pity that during the day you can not make up: the palette is something you will not carry with you! Here is another one of its minus.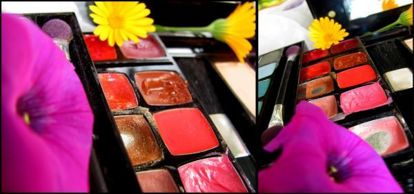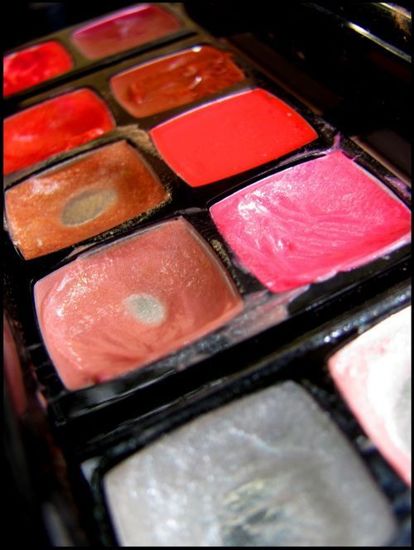 Blush I do not use at all. I applied them 10 times in my whole life: several times – on the stage and twice – at the graduation party (yes, I had two of them). I was pleased, for a light scenic make-up – suitable. Made – erased. I will not comment on more blush, beyond my competence.
Pearl powder never used. On the stage, nothing brilliant can not, because stage lighting changes everything, and lips covered with glitter will just be a glare on your face, and shiny cheeks … I don't even want to imagine what it might look like. Pearl powder – a thing intended only for evening makeup, I do not see more applications for it.



Plaster?

At the last level – two shades of powder. It is regrettable to say this, but the powder is not included in the number of cosmetics used by me constantly. I used the powder a little more often than rouge – maybe 15-20 times in my whole life. Basically, for stage makeup. Applied well, smoothly, no problems were found either during the application or when removing makeup.
Since My skin is oily, problematic, I prefer not to clog pores with either foundation or powder. I feel great without them. And I do not advise other owners of problem skin to get involved in these things. This is a mistake in my opinion. The skin must be cleaned, and not even more diligently pollute.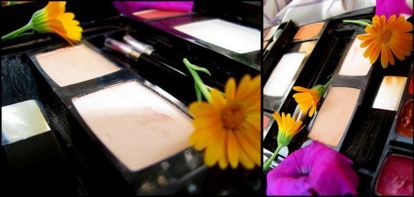 So, the palette is a good thing. I have not bought a shadow for myself for a year and a half since still not spent these. On three levels of the DARE TO DREAM palette, almost everything I needed was located, and even I didn't need it at all, so such a purchase is an investment in the future, so to speak. Perhaps that will be needed /