Tired legs – a feeling that, I think, is familiar to everyone firsthand. What is the best way to relieve stress and fatigue? Of course, water … You can just take a shower, but you can make a special foot bath. In any case, then our feet need nutrition and hydration.
In this topic I want to share with the participants of Alimero my impressions of the use of Vitex BV, Aquatel and Ballet firms.
Foot cream with extracts of celandine, calendula Vitex BV
Vitex BV products are manufactured in Belarus, namely in Minsk. I have never heard anything about this company and did not buy any cosmetics.
Yes, and this cream did not want to take, despite the fact that he very often caught my eye. Maybe that is why she did not want)) I do not like anything annoying. And then there was the impression that it is sold in almost every department with creams.
And the price was a little embarrassing – 22 rubles, and the tube seemed big. But in fact, the cream there is even slightly less than usual – 72 g. Just a non-standard package – long, but narrow.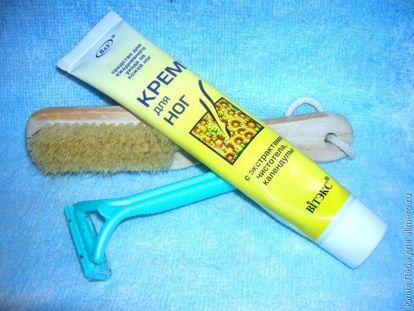 As usual, the first thing I notice is the smell. His smell is very intense, I felt it immediately during the first use.
And most importantly, after applying this intensity does not decrease at all, but rather the opposite … In my experience, having inflicted it on the legs after shaving and on the feet before bedtime, we tried in vain for a long time to fall asleep.
Not only is the smell sharp, so even if it seems slightly pleasant, it is only the first minute. As a result, only after 10 minutes of airing it became possible to breathe more or less normally in the room.
As for the consistency – it is optimal for me. According to my observations, it is thicker than usual for foot creams, and I like it.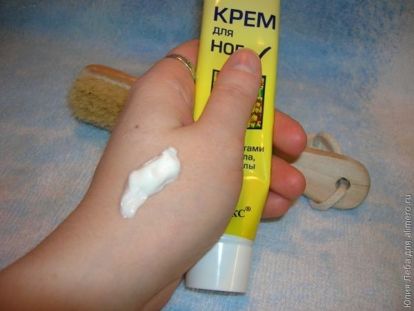 Apply and pound the cream well. But after applying the sensation that the feet are wet, in the literal sense of the word)) It is as if fresh from drenched shoes. Not to say that the sensations are very pleasant.
Nevertheless, it nourishes the cream quite well, copes with the standard daily task. But if there are any problem areas, then it is more difficult with them.
pros
– low price
– optimum consistency
– easy to apply
– copes with the daily hydration of the skin of the feet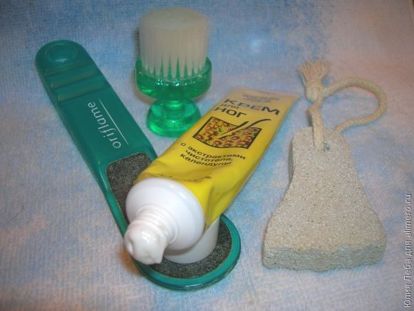 Minuses
– terribly strong smell
– not very pleasant after application
– can not cope with problematic areas of the skin of the legs
Conclusion
I will describe my impressions and feelings from using Vitex BV cream in one phrase: better than nothing. With many but.
Soothing Foot Balm Cream
I have liked the cosmetics of Akvatel for quite some time, therefore I buy and use their products without fear. Same with this foot cream.
As I already wrote in the topic about hand creams, Aquatel cosmetics are pleasant and most importantly – not an intense smell.
The texture of the cream is average. I love the thicker, but rarely meet these creams.
Apply the cream nice. True, there is a feeling that it is not immediately absorbed. But with the help of massage circular motions it is well rubbed over the surface of the skin of the legs.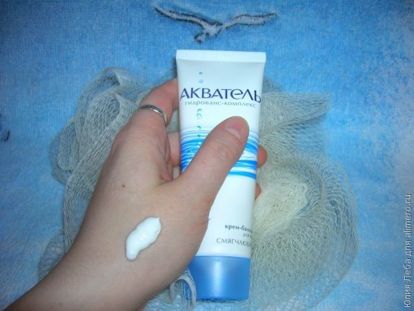 Really softens the skin due to the olive oil in the composition. And not only the delicate skin of the legs after shaving, but also on the sole.
I also want to note that copes with the healing of small cracks, with peeling. Relieves stress.
pros
– reasonable price (28 rubles)
– pleasant not intense smell
– softens the skin
– heals small cracks
– struggles with peeling
– relieves tired legs
Minuses
– not immediately absorbed
Conclusion
The cream is very good for daily use, it copes well with moisturizing the skin, has a relaxing and relaxing effect. Pleasant to use also due to a non-intrusive, good cosmetic smell.
Foot Cream with Horse Chestnut Extract Ballet
Not so long ago, when the regular foot cream was over, I looked into the cosmetics department, but I did not find any of the usual creams there. I examined the whole showcase with creams and, among the faceless tubes, I saw Ballet cream.
The mere fact that it was he who made me draw attention to myself among the mass of options already prompted me to purchase. And I was not disappointed.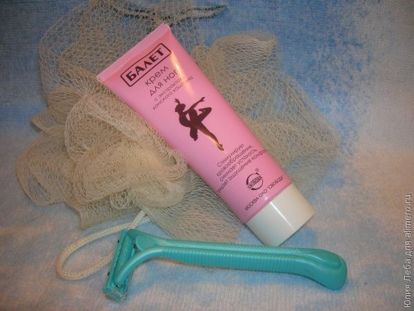 I'll start as usual with the smell. The smell is interesting, it is difficult for me to describe it, it is rather unusual. I immediately had a thought – maybe this smell characterizes horse chestnut?
With these thoughts, and climbed into the Internet. I can't say with 100% certainty that it is so, but it looks like I was right. I read that the freshly chopped horse chestnut wood has an unpleasant smell that disappears after drying.
How the smell in the extract behaves – who knows … I am not a chemist by education. But unpleasant, I would not call him anyway. Rather, it is not typically cosmetic. You need to get used to it. However, it is difficult for me to attribute this to minuses. the smell is not too intense.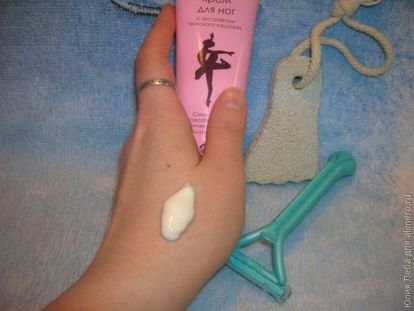 The consistency is average, closer to thick. Soak up immediately. The skin after using the cream Ballet is soft and pleasant. In addition to moisturizing, it also has a healing effect.
Drew attention to the interesting effect – after using the cream there is a feeling that the legs breathe, a feeling of freshness. As if it contains menthol … This thought came to me by analogy with the sensations when using gum with menthol =)
I think it was precisely due to this effect that the tiredness of the legs after applying this cream was gone.
After rubbing the legs with cream Ballet I and my hands completely grease them, so as not to mix completely different smells.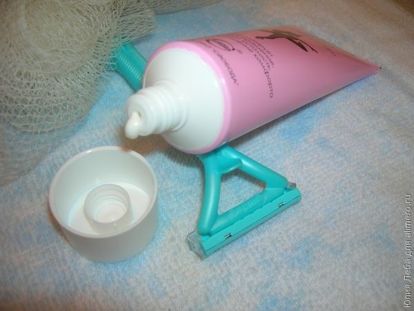 pros
– reasonable price (32 rubles)
– not intense smell
– it is quickly absorbed
– moisturizes and softens the skin
– has an antiseptic effect
– relieves tired legs
– stimulates blood circulation
– very pleasant sensations when using
Minuses
The only thing that can be attributed here and even with a stretch is not a typical smell. But I already got used to it. For me the main thing is that it is moderately intense, does not interfere with sleep after using the cream.
Conclusion
I really liked the cream, copes well with skin care and gives the legs lightness, eliminating fatigue. I am very pleased with my new find!
And what foot creams do you use?