I do not like all sorts of shiny nails. On others like, on yourself – no. But lacquer Dance Legend Fruity Milk Sugar Glaze I liked so much that it always improves my mood. He is cute and gentle, but at the same time attracts attention.
Dance Legend is a fairly well-known Russian manufacturer of professional manicure varnishes. The brand picks up all the fashion trends in manicure and produces the actual and popular by customers series: sand, yogurt, holography, duochrome, neon.
Fruity milk is a delicious series of varnishes in spring 2013, which was called yoghurt. It consists of six varnishes in soft pastel colors with glitter of different colors and sizes. I really liked the whole series, but I decided to buy one.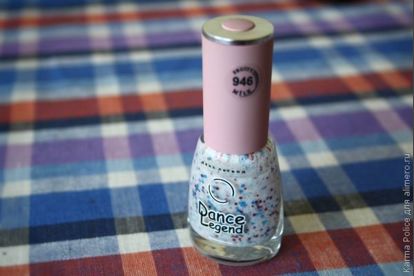 Milkshake
I liked the lacquer Sugar glass. Compared with the blueberry, pink, blue and lilac collection colleagues, it seemed to me to be the most calm, versatile and tasty.
So, this is lacquer. In the dairy translucent base there is a red and blue glitter of two sizes: large hexagons and small roundels. In general, the association – a milkshake with berries, just yummy!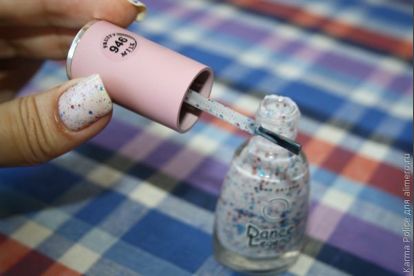 Drawing
Glitter does not need to catch and expel to evenly distribute the nail – it is applied well by itself. In this case, non-liquid lacquer and spontaneous, does not run off the cuticle.
It is easy and simple to apply, no strips, even in a single layer, which turns out to be translucent. You put the second layer – the smile line is still visible, such a feeling is created by the airiness and watercolor.
Lacquer has a good gloss, the top is not needed, because the glitter is not felt.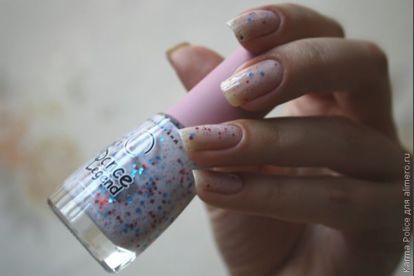 Brush and dry
I think that the varnish is well applied precisely because of a good brush. It suits the consistency of lacquer as best as possible, picks up just enough to paint one nail, and is not clogged with glitter. The brush is comfortable: soft, long and moderately wide.
Two layers of lacquer dry for about half an hour, despite the fact that I dry the first layer for 10 minutes.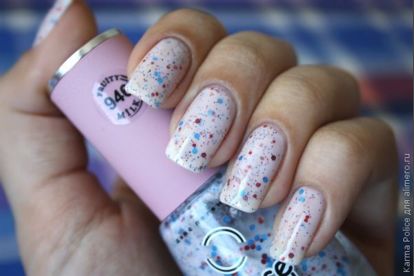 Persistence and withdrawal
This varnish is just a champion in stamina! If I have a week to go, when there is no time for a manicure, then I paint their nails with them.
And here is such a trick: the color of the base is milky, therefore, if the nail grows back, it is not so noticeable, and even slightly worn tips do not catch the eye either. You can safely wear for 10 days. And for that, too, I love him.
It is erased from the nails, of course, not so smoothly. Cotton disc should hold half a minute on the nail, and then remove the varnish. For glitters, there is a Peel Off base, but lacquer will not last for 10 days.
I varnish very pleased. I wear it at any time of the year. He is so interesting: kind of gentle, but at the same time bright! Lucky this series cost 180-250 rubles, the volume of a bottle is 15 ml.