A bright and expressive look is the dream of every woman. That is why we acquire all these numerous cases and bottles with shadows, eyeliners, mascara and … false eyelashes.
The latter, by the way, have become an unusually popular trend in our modern life. Not only Hollywood stars, but ordinary women more and more often use false eyelashes.
So yesterday my friend told me how convenient this invention is in application: if you get your hand and learn to glue them, then you don't need to buy mascara, and you don't have to spoil your eyelashes with this eyelash!
I expressed some skepticism on this subject, having doubted the absolute harmlessness of false eyelashes. There was a small argument with a friend, and I decided to get on the Internet and find out what false eyelashes are and what could be their harm?
I hasten to share with you information.
Types of false eyelashes


In total there are 3 types of false eyelashes: individual eyelashes, bunches and continuous ribbons of eyelashes.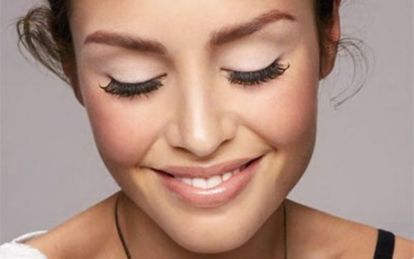 It is the last two species that have received the most popularity, while the first (individual cilia) are not very common due to the difficulty of sticking them at home.
However, the cilia-bundles are also not as simple as they seem: they must be applied very carefully, with them right between their cilia, which requires considerable patience and dexterity.
But continuous eyelashes ribbons – the easiest to use. They are first measured on the eye, carefully cutting off the excess length with scissors, and then attached with a special glue to the eyelid itself (in no case to the eyelashes!).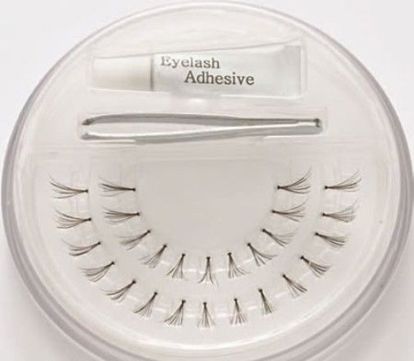 In order to remove artificial eyelashes, you just need to wipe your eyes with milk to remove makeup, wait a minute, and then carefully remove the cilia, wipe them and put them back into the case.
You can use the same false eyelashes up to 5 times, although my girlfriend says that she uses her eyelashes for two months and sticking them on each day.
At first glance, everything is really simple and quite comfortable. But what pitfalls can there be?
Harm of false eyelashes


For some reason I thought that the harmful effects of false eyelashes are directed specifically on our own, natural cilia. However, this is not the case. False eyelashes may be harmful, but directly to our eyes.
And this harm is connected, by the way, not even with the false eyelashes themselves, but with the glue with which they are attached to the eye.

First of all, when attaching eyelashes such glue can accidentally get into the eyes, which in itself does not cause pleasant sensations.
But the worst is not the point. If the glue for false eyelashes is of poor quality or expired, it can cause various acute eye infections.
In addition, even when using good and high-quality glue, while wearing false eyelashes, bacteria still accumulate in it, which can lead to the same eye infections.
So what to do? Maybe it's better not to use false eyelashes at all, out of harm's way?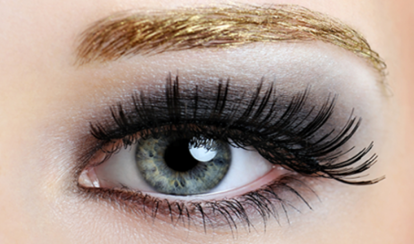 False Eyelashes: Terms of Use


In fact, you can use them, but carefully. And ophthalmologists have already compiled a list of recommendations for fashionistas who would like to amaze with their chic looks and save their eyes.
1. It is possible to wear false eyelashes no more than 3-5 hours per day.
2. Buying false eyelashes (or rather glue for them) is needed only in proven places, preferably in pharmacies, beauty salons or special cosmetic stores, but in no case in kiosks or on the market. In pursuit of a low price, you risk acquiring low-quality glue, which at best will irritate the eyes, and at worst – cause conjunctivitis.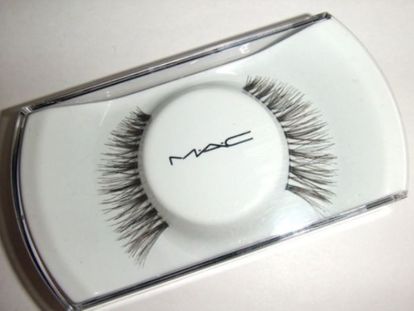 3. You can not use glue for eyelashes after the expiration date (the reasons are the same as described above).
4. After each use, false eyelashes should be wiped thoroughly, removing any old glue.
5. In no case should false eyelashes be worn with contact lenses, since when wearing lenses, the eyes become most vulnerable to various kinds of infections.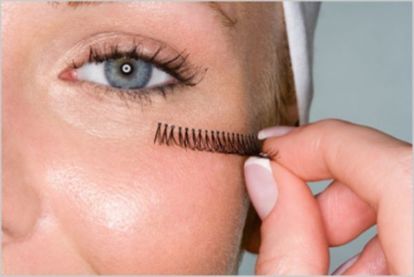 6. If your eyes are inflamed, then false eyelashes and glue should be changed: first, because they may be of poor quality; and secondly, because bacteria can remain on old eyelashes and glue, which, when reused, will again cause eye inflammation.
Following these simple rules, you can use false eyelashes absolutely without harm to your own health and vision.
Well, my opinion has changed: now I think that for special occasions or evening makeup such eyelashes can be purchased.
But to wear them from morning to night, as my girlfriend does, I definitely will not, because my eyes are so sensitive to ugliness …
Interesting, and you use false eyelashes?