I noticed that my skin changes its type depending on the time of year. In summer, it is quite oily, pores quickly become clogged and sore pimples and reddenings appear on the skin. With the onset of autumn, the state and appearance of my skin changes, it becomes more dry.
I change the light moisturizing mousses to a nourishing fat cream. But even he does not cope with his task. The colder is not outside, the worse the condition of my skin. It becomes overdried and peels very much. Peeling is visible to the naked eye. In such periods, the skin resembles scales and upsets me very much. And the sensations in this period are simply indescribable, as if the face was smeared with clay and it dried out.
There is an opinion that dry skin does not need peeling. Probably, people think so because of the fact that oily skin has enlarged pores that quickly become dirty and need deep cleansing. In dry skin, such problems should not be, because the pores in this type of skin are small, acne and black spots are not inherent in this type of skin.
But I know that these judgments are not true. Dry skin need deep cleansing no less than oily and combination. After all, it is on dry skin that there are a lot of dead particles that cannot be recovered, therefore it is pointless to keep them on your face. It is necessary to get rid of dead cells, and ordinary gels and facial cleansing will not help. You need a stronger tool that will massage the skin and remove all necessary impurities. The scrub can do this best.
On the shelves of shops a huge number of scrubs of different brands. I tried many of them, and none of them did not suit me: one caused reddening of the skin, the other had a distinctly chemical scent without a hint of natural ingredients, and the third did not clean my skin the way I needed it.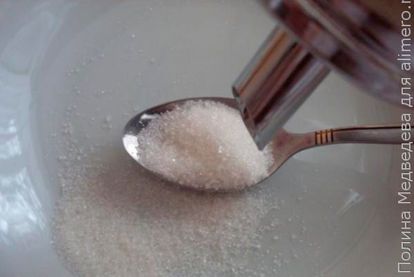 I decided to cook scrubs at home. Having tried several recipes, I found the perfect option for myself, the recipe of which I want to share with you. To prepare this scrub, we need the following ingredients:
1 tbsp. oatmeal
1 tsp Sahara
1 tbsp. olive oil
Flakes must be crushed in a coffee grinder or blender, then mixed with the other components. Apply the mash grub to face and massage well for a few minutes, then rinse with warm water. The skin after using such a scrub becomes very soft and soft.
Dear readers, tell us which scrubs do you prefer?