Today I want to share with the readers of Alimero my impressions of the use of eye shadow Flormar Pretty Compact Quartet Eye Shadow. I bought them by chance: in the store where I bought powder, there was an action on decorative cosmetics of this company, that is, when I bought powder, I could choose any product at half price.
Since I had never paid attention to the window with this product before, I did not know about its quality. Therefore, I chose the product for which I practically had no requirements. Honestly, I do not understand the composition of the shadows at all and use them quite rarely. So I decided to buy them.
The first thing that attracted me to this palette is its bright pink package. A box of round shape, in which there are four colors of the shadows in equal amounts. The palette I chose contains shades of the most natural shades: dark brown, coffee, light beige and soft pink. I was also pleased that there are no shiny particles.
Packaging is quite convenient and simple. The lid keeps on the box tightly, does not fall off, but at the same time, it opens easily. There is no sponge in the package, but it didn't upset me at all, since I use only a brush for application. The amount of shadow is 14 grams, which can not but rejoice at a price of 85 rubles (20 UAH).
On the reverse side of the package there is a double sticker with information about the manufacturer and composition, although I didn't manage to remove the first layer of the sticker: both layers stuck together and broke. All that I was able to recognize from the top layer of the sticker is that shadows were produced in Turkey.
Advantages and disadvantages
Shadows have a pleasant texture, they are not dusty, do not crumble. When applied, their area under the eyes remains clean, without dusty particles, as is often the case with other shadows. I tried to apply them in a dry and wet way, and was not disappointed.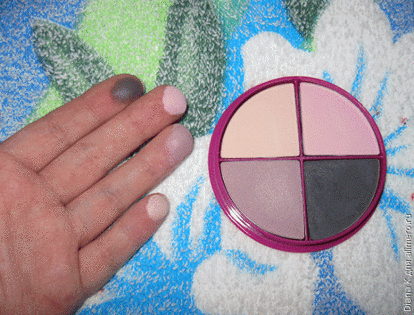 Due to the consistency, they fit well on the eyelid and perfectly shade. This is especially important to me, because I like to create smooth color transitions on the eyelid. Due to the presence of both light and dark colors in a palette of palette, you can use Smokey for makeup or for drawing arrows.
I can not say how resistant they are without applying a base, but they stay on the base all day long without rolling and shedding. I can safely recommend the eyeshadow Flormar Pretty Compact Quartet Eye Shadow to all readers of Alimero!