There is an eyeliner of 250 rubles. She herself is transparent, in her only blue sparkles. She was offered to me by a consultant before the New Year, saying that she would look perfect on holidays. Shades of sequins were different: gray (silver), black, red, light green.
My eyes are blue, and besides, I mostly used to use blue eyeshadow (they are easiest to apply, the shape of the eyes does not deteriorate even when applied incorrectly or ineptly).
And since I am still not an expert in applying shadows, the most convenient for me is the light blue or milky white color of the shadows. Of course, I have other shades, but I use them much less often.
So, about the liner. I was attracted to her thin elastic brush, which creates a smooth line when applied, as well as blue sparkles, which make a bright-looking eye just for the New Year holidays.
At that time it was a novelty in the store. It can be applied both on a clean eyelid and on a pencil or eye shadow.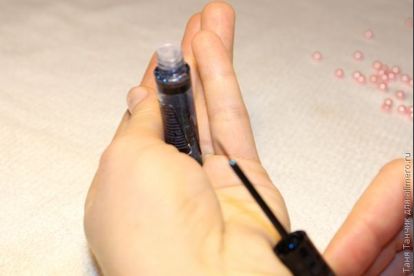 But it turned out that it does not look very good on my eyes, since the curlicues are not made. I tried many times, but it was impossible to make smooth curls on both eyes – my upper eyelid falls downward in shape. Therefore, I can not give this eyeliner some beautiful shape or emphasize the eye with it.
But, I confess, I sometimes paint her eyelids for her six-year-old daughter – she looks stunning in her eyes! A sort of fairy fairy.
This is our secret with my daughter, no one else in the family knows that I sometimes paint her, and then I take pictures. She just has unusually long eyelashes, and when I paint them with mascara, and then let me down with this eyeliner (her eyes are blue too), then she becomes just beautiful.
I do this in order to admire her. 🙂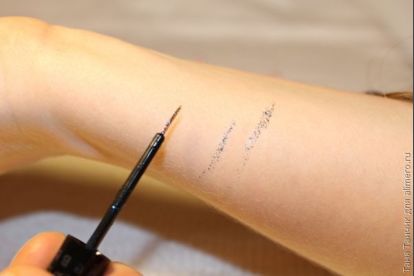 But of course, this happens infrequently, and after about 15 minutes I already wash off all the makeup on it so that the skin does not deteriorate. Although I could not resist and bought her a set of cosmetics for girls in IV Roche. I think, donate for March 8 or still hide and wait until the 1st grade of school?
pros liner DEBBY EYELINER GLITTER:
– very good and beautiful looks eyeliner on the eyes of the classic form – where the outer corner of the eye is located in the middle or slightly raised upwards
– the brush is very thin and elastic; the line is very precise and even
– transparent base of eyeliner, freezing, not at all visible on the skin
– original and bright make-up for parties or New Year's holidays
– on the descending corners of the eyes it does not look
– on dark and dark skin it does not look, in this case it is necessary that the base should also be painted in the color of sparkles
What kind of shimmer do you use?