Long and gorgeous eyelashes – this is my dream! Unfortunately, nature did not reward me with them. It can be seen, having defended the queue for long hair, I did not have time for eyelashes.
I remember when I was in school, I was very beautiful. Put on 3-4 layers of mascara on the eyelashes. Now, I try to put on my face a minimum of cosmetics and eyelashes as well. Therefore, this question is very relevant for me, I am constantly in search of the best means for the growth of eyelashes. The choice of such funds is huge. So that you do not waste time and money in vain, I will tell you about my experience in their use.
A friend told me about it. She constantly buys Cosmopolitan magazine and was attracted by the Double-Lash nourishing gel ad from the Swiss brand Mavala. It cost this wonderful tool about 500 rubles. I smeared them properly until it was over. The effect is almost not noticed, what eyelashes were, and remained so. Conclusion – the more I will not buy it. In my case, it was a waste of money.
The most common and the most, in my opinion, the best activators of the growth of eyelashes are burdock and castor oils. They can be used separately, can be mixed and applied to the eyelashes or make special masks.
At first, I simply mixed one part of castor oil and one part of burdock oil and applied a brush from the old mascara to the eyelashes for the night. If you do not have the old brush from the mascara, then you can use a regular cotton swab. And then, I accidentally saw on the Internet a recipe for eyelash growth masks.
Masks for the growth of eyelashes
To make this magic mask you need to take one part of burdock and castor oils, a few drops of aloe juice and the same drops of oil solution of vitamins A and E. Next, I mix all this and apply it with a brush from the old mascara for a couple of hours. Then wash off.
I did this mask every day for two weeks, but now I try to do it a couple of times a week to maintain the effect. To store it, by the way, it is better in the refrigerator, and before use to get an hour so that it warms to room temperature. In the microwave, I read, oils cannot be reheated, because they lose their beneficial properties.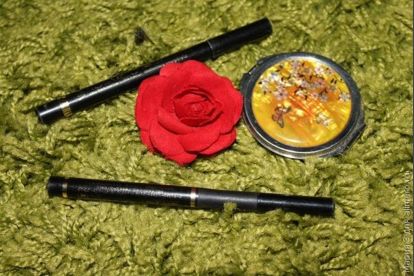 As a result, I consider as the best remedy a mixture of castor and burdock oils. What is for hair, what is for eyelashes is the number one remedy. The main thing is to apply them regularly, at least two or three weeks and the result will not take long!
Personally, after two weeks, the result became noticeable, the eyelashes became thicker, slightly grown.
And what means for the growth of eyelashes can you recommend?