My native cilia – completely normal and average. A little mascara for them is enough to emphasize the look. Previously, I was skeptical about building up; I don't like to depend on someone, adjust to masters, etc. And suddenly a pleasant coincidence – my friend Oksana is doing this, so why not try it?
Extended eyelashes vary in color, thickness, length and material. The standard color palette is traditional black and brown. For lovers of extravagant images and special cases there are also multi-colored cilia.
Oksana offered me three thicknesses to choose from. The first one seemed to me too thin, the last one seemed too noticeable (like an eyelash with mascara), but the middle one is just right. If desired, you can select the outer corner of the eye with eyelashes of greater thickness.
The length of the cilia is measured in millimeters. I wanted the look of my new eyelashes to be as close to natural as possible, so I chose 12mm. By the way, experienced craftsmen do not use eyelashes of the same length, but start with smaller ones at the inner corner of the eye, gradually increasing the length to the outer edge.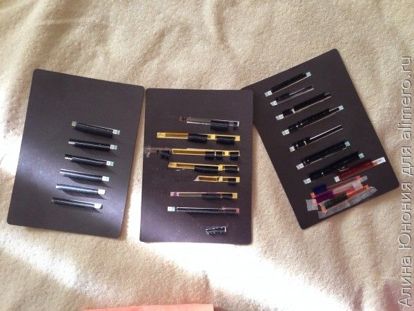 The material is natural and artificial. Perhaps, natural and looks more natural, but Oksana said that, firstly, it often causes allergies, secondly, it is more difficult to work with it, and thirdly, its structure is not homogeneous enough.
No special training was required, I did not even remove contact lenses during the whole process. We started with the fact that the lower eyelashes were carefully glued (they interfere with the master), then they degreased my native eyelashes.
After that, Oksana diligently stuck one artificial eyelash on mine one, all I had to do was to lie with my eyes closed, listen to music and keep up the conversation. Honestly, in the second hour of the procedure I even fell asleep. The whole process took us about two hours.
Eyelashes do not require special care. Unless you can gently comb them if necessary. The first three days it is advisable not to wet them. And in the future, treat as carefully as possible, do not rub your eyes.
My new eyelashes do not need dyeing, but theoretically it is possible to dye it. True, remove makeup from them should be a special tool and extremely gently. Make-up from the eyelids is more convenient to remove not with facial wash, but with a cotton pad or a cotton swab dipped in a special solution.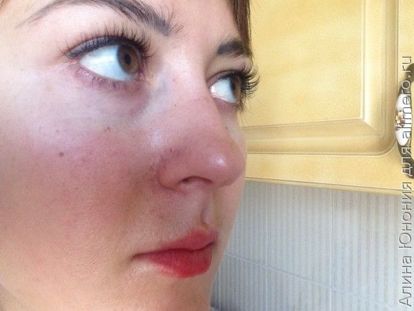 A month later, my native eyelashes should grow so that a correction is required. True, Oksana does not make it. She prefers not to glue the new cilia on the old glue, but to completely remove and wash off all the material, and then re-build from scratch. He says that this method practically does not harm the native eyelashes.
My friends told me that even my face has changed, and the eyelashes that have been added look very natural. And my daughter even shed tears at the fact that she wants exactly the same!
New eyelashes are not felt at all, by the evening I even forgot about their existence. Now I just need to emphasize a little eyebrows, add a drop of glitter to my lips and you can at least take a walk, even to a restaurant.
In general, I am very pleased with the result and recommend everyone to try eyelash extension at least once! And do not believe the myths that after building their own lashes almost bunches fall out and become thinner. If the master uses high-quality glue, the correction is made from scratch each time, and once in a few months you give your eyelashes a rest, then nothing terrible will happen to them!
And how do you feel about artificial cilia?