Eyebrows are an integral part of the makeup of each girl. Using the shape of the eyebrows, I give the face the desired look, and vice versa, if the eyebrows have an irregular shape, you can look tired and sad. Today I will show my eyebrow pencils from three manufacturers.
Eyebrow Designer Essense eyebrow pencil shade 02 Brown
The manufacturer (Germany) promises to bring eyebrows in order with a special brush. Your eyebrows will be in great shape. In the collection of 4 shades. Weight – 1 g. Wooden pencil with a plastic tip and a brush in the color of the shade. At the first use it is sharply ground. Cost – 129 rubles without discount.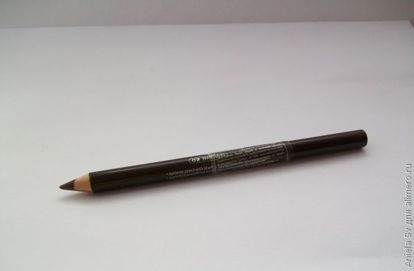 Color – the right brown, not leaving in red. Easy to apply, shade, sharp tip makes it easy to draw imitation hairs. Very persistent – it stays on my eyebrows all day, does not fade, does not form stains, fixes the shape of the eyebrows. Moderately soft, easily gives color. Well sharpened without breaking.
Eyebrow Pencil Art-Visage eyebrow pencil in shade 403
The manufacturer (Germany) promises a dense, non-greasy texture, a comfortable brush for natural eyebrow makeup. The oils and waxes in the composition care for the eyebrows and provide color stability. In the collection of 6 shades. Weight – 1.3 g. Wooden pencil, sharply sharpened. Brush similar to Essens. Cost – 149 rubles without discount.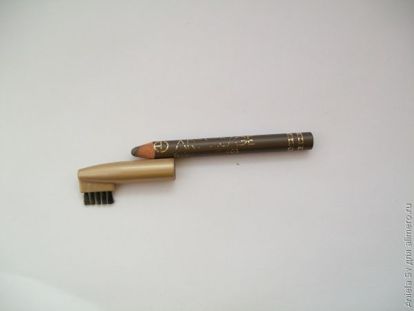 The color is gray-brown with a little shimmer, it seems to me that it is more suitable for blondes, it is light on me. More dense than Essens, therefore it paints and gives color with difficulty. Also persistent, does not disappear from the eyebrows during the day, sharpen well, without breaking.
Brow Definer Glimmerstick Avon eyebrow pencil in Dark Brown
The manufacturer (UK) promises easy application and stability throughout the day, emphasizes the shape of the eyebrows and preserves their naturalness. Weight – 0.25 g. Price – 250 rubles without discounts. In the collection of only 2 shades. The pencil is automatic, enclosed in a plastic case with a tight-fitting cap.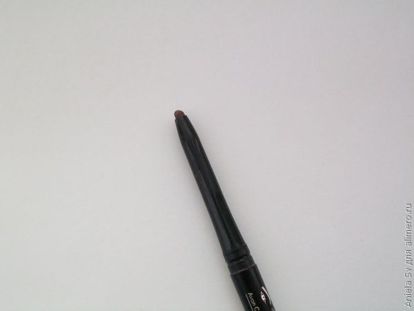 There are no brushes for shading. Color – dark brown, but it goes to the red on my brows – it looks unnatural. Resistance is good, throughout the day remains in place. Minus – there is no sharpener, so you have to do without it and draw as it is, there is no possibility of drawing hairs. Very soft, easy to give color.
I consider Essense to be the best pencil – it has an optimal price-performance ratio, and the shade completely suits me. The most unfortunate pencil is Avon. Overpriced for tiny size and inappropriate color.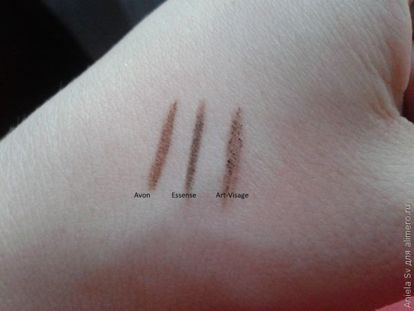 What do you paint the edge?