Being naturally blonde is great, but there are a couple of nuances that require regular adjustments. One of them is regular dyeing of eyebrows and eyelashes in a darker color.
Together with blond hair, I inherited blond eyebrows and eyelashes. So light that sometimes they seem literally transparent. And everything would be fine, but when traveling to the beach or to the pool, where there is no place for cosmetics, my appearance becomes gray and uninteresting.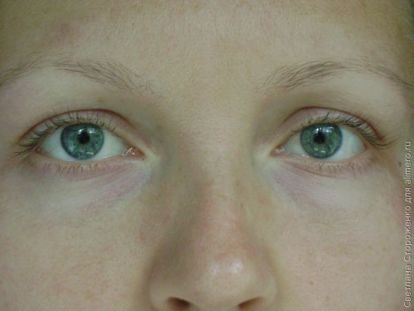 My history of eyebrow and eyelash dyeing
Several times when painting my eyebrows, I resorted to the help of a hairdresser, but now I am constantly with a small child and painting eyebrows not at home becomes unlikely.
And to look good and at the same time not to resort to cosmetics every day, I really want to. In addition, with the baby is not always possible to spend time on the imposition of makeup.
For almost 9 months of maternity leave, I managed to try a lot of colors. but most of all I like the cream-color for eyebrows and eyelashes Anna.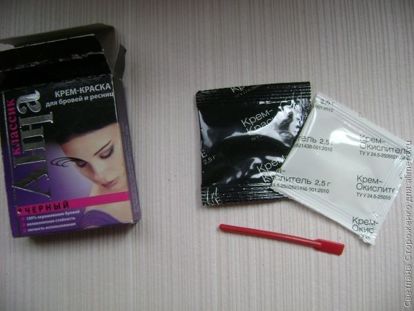 I usually take a black color, just keep it on my eyebrows and eyelashes 2 times less in time than what is written in the instructions.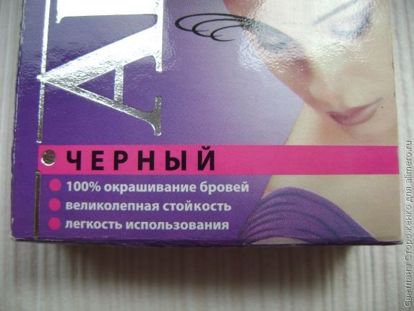 In a bright box there are two pairs of bags with an oxidizing cream (white bag) and a dye cream (black bag), 2.5 grams each. Also included is a plastic spatula.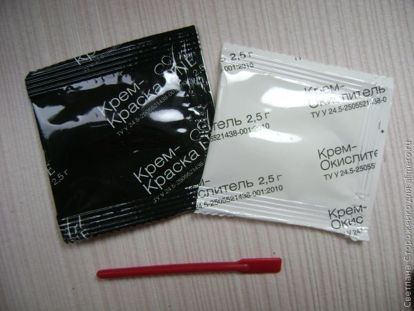 The instructions for use are inside the box, which helps to avoid losing instructions.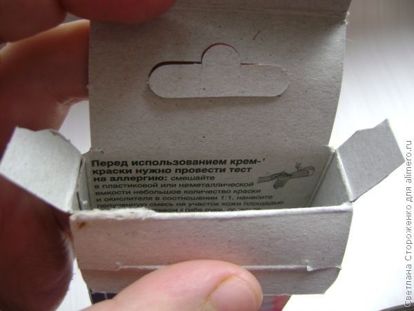 Before use, simply mix the contents of two bags, and the cream paint is ready to perform its duties.
The content of one pair of bags is enough to paint eyebrows and eyelashes for me, my neighbor, and about the same amount.
For my translucent eyebrows and eyelashes, just hold the mixture on the hairs for about 10 minutes. Then the brows and cilia seem to take on a new look. And emphasize my personality without a gram of additional cosmetics.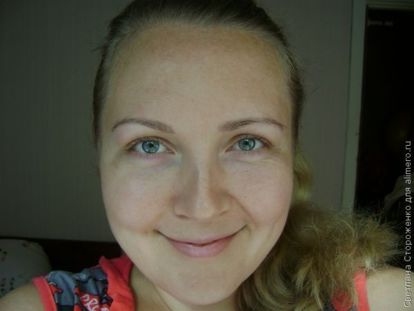 Cream-paint does not dry out and does not paint the skin. At least in those 10 minutes that I keep the cream paint.
For applying cream paint, I used ordinary ear sticks, since I cannot adapt to the plastic spatula.
The composition of cream paint


The composition of the cream paint is specified in English, which greatly complicates the identification of its components.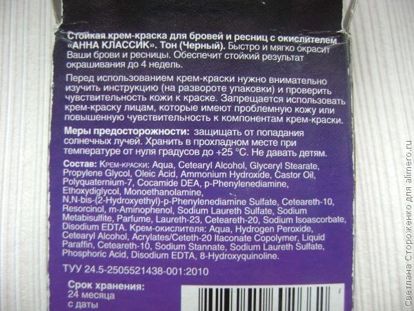 Using this paint is easier than ever, and the effect of use is kept on my edges for more than 3 weeks. And this is taking into account that the sunny summer has just ended in the yard, when the hairs are very susceptible to fading.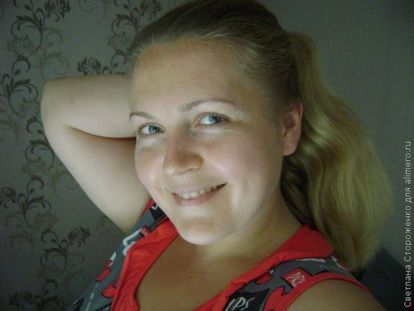 I am very pleased with the result and use this paint for the 4th time already.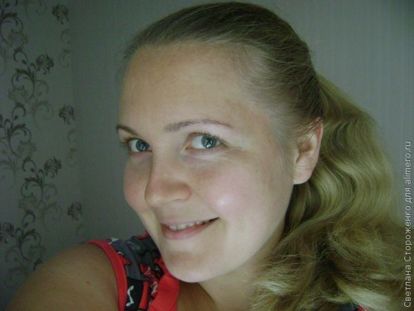 I wish you always achieve the results you need and stay beautiful forever!