Shadows of natural brown shades should be in the arsenal of every girl. They help to quickly make up in the face of lack of time and are ideal for fashionable makeup-nude. Today I will talk about these shadows – Ninelle Smoky Eyes in shade 23.
The manufacturer (Spain) promises ultra-fine texture of shadows, professional selection of shades for an impressive smoky effect. Shadows are easy to shade and have a uniform coating, creating smooth color transitions.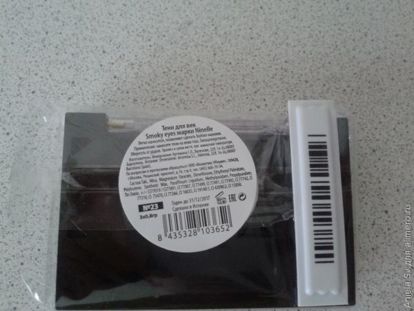 Due to the content of mineral powders, vitamin E and coconut oil, shadows even care for the skin of the eyelids, nourish and moisturize. Suitable for sensitive eyelids. In the collection of 6 shades.
The shadows are in simple plastic packaging with a transparent, reclining 180 degrees, cover. The cover snaps in, the lock for opening is convenient, I do not break the nails about it. There is no mirror, but there is one bilateral sponge, but I do not use it.
Shades and application
Shadows are soft, satin, easy to apply, layered and shaded. Without a base, they look inconspicuous, they reveal their full potential on the base. They stay at the base all day, without a base – a maximum of 4 hours, in my eyelids, then they become clogged. Not showered, eyes are not annoying.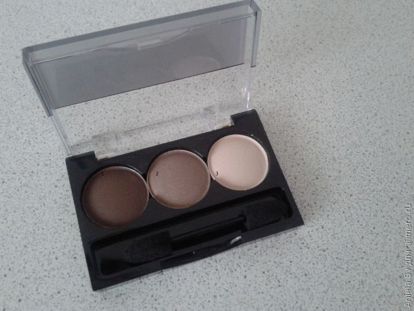 The first lightest shade is a delicate cream, the color of baked milk with a golden micro-scaler. Very beautiful color – it can be used as a highlighter under the eyebrow and on the inner corner of the eye, it can be used independently in the make-up under the arrow. I love to wear it with arrows.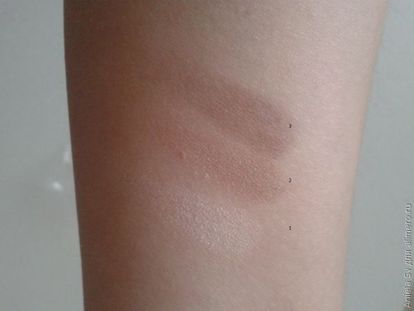 The second shade is a delicate light brown, for some reason it goes red in the eyes. Shimmer does not contain. I did not really like it, I rarely use it.
The third most saturated shade is matte coffee. I emphasize them the line of growth of eyelashes and use for the outer corners of the eyes. All three shades to create Smokey-makeup I used only once. All spoiled the central shade – went to red and created the effect of tear-stained eyes.
Shadows are removed easily, I remove them with one movement with a cotton pad with micellar water or liquid for removing makeup from the eyelids.
Worthy shade for its low cost. Of course, in my version not all shades are used, but I think things are better in other shades. Price – 169 rubles without discount.