Hello, cute girls. :)))
Here finally got around to talk about my small collection of cosmetics. I'll start with these eyeshadows, because they are my favorite.
They came to me by accident. On one of the holidays, a friend gave me a gift certificate to the BROCARD store, to which I went to choose a gift. I did not plan to buy these very shadows. But when they caught my eye, I could not take my eyes off them. So they were in my cosmetic bag.
I was attracted to them by the presence of three calm shades that can be combined with each other. Just what I needed for day makeup.
Plastic black packaging of a rectangular shape with a central hole through which the colors of the shadows are visible. Volume 4 ml.
The lid opens easily.
The palette is divided into compartments: three different shades of shadows of one color range and two for sponges.
One applicator for arrows with a narrowed end, and the second – a standard for feathering. Wallpaper applicators are comfortable.
On the back of the package there is useful information, for example, the country of the manufacturer, instructions and what shadows to put.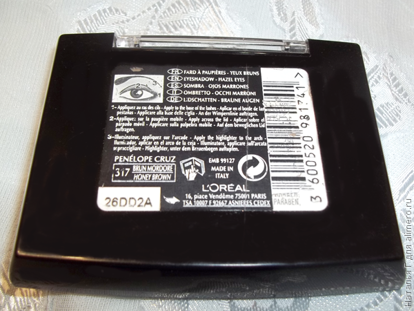 Personal opinion
The case is just not killed. I dropped it several times from a decent height, but he was all healed and the shadows also did not beat.
The palette of shades from light sandy to rich-liked coffee. The colors are pearlescent and slightly iridescent. Due to this, the shadows on the eyelids softly play with a gentle glow. In the daytime makeup do not look bright. But refreshing look, and the image as a whole.
Applied and lay on the eyelids perfectly, do not roll off and do not crumble. They are wonderful to be touched.
Very economical. The texture is soft and silky.
Eyes are not annoying. Allergies do not cause.
I use without any base, keep all day.
At first glance, I really liked the shade! They fit my green eyes perfectly.
Costs, if I remember correctly, about 12 euros. Not the cheapest, but worth it for this product.
Mirror is sometimes not enough, for some reason, the manufacturers decided not to do it. Although it would ideally fit on the inside of the lid.
But I still do not regret the purchase.
Thank you for attention. 🙂 I hope that my review will be useful for you.