Having asked the consultant in the store about shadows that are acceptable in price and quality, I received an offer to purchase Artdeco shadows for the promotion – with the purchase of 6 shadows a gift box for these shadows is free.
The shadows themselves are in small cases, but they can easily get lost in a cosmetic bag. Therefore, they must be kept in a case. Or better to buy other shadows. The girl seduced me with this offer, and instead of 4 I took 6 pieces to get a case as a gift.
I took pink with a shimmer, nacre blue, milky and flesh to brighten the eyes, as well as tan tan and dark brown.
But when I came to the cashier and they already beat me off, and I already paid, I realized that I had not been given a case. The cashier sent me to the girl who helped me choose the product. Then the administrator herself came to me and I heard how she, talking to a consultant, told her: they were all taken away, not a single one.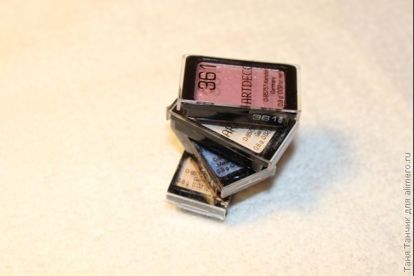 Then she turned to me and apologetically announced that, unfortunately, she could not give me this case. But then it became already stuffy (I was waiting too long), and I didn't care, I hurried to the exit, saying that it was okay.
I still regret this: it is catastrophically uncomfortable to look for shadows in a cosmetics bag, a lot of time is wasted. But in principle I will not buy a case for these shadows, it is a pity for money.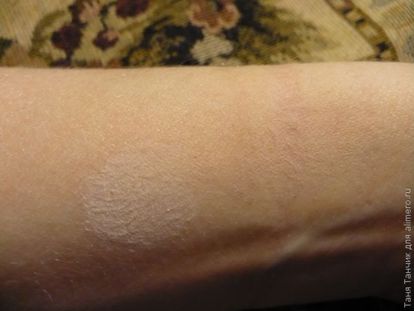 I like the shadows, the skin completely merges with the skin, the milky lightens the skin so that the eyes appear more. Blue looks on my skin brightly, but in one layer is normal. Pink, I also apply in a single layer.
With brown I only paint my eyebrows or make eyeliner around the eyes (with pencil the eyeliner turns out too bright for me, the eye turns out scary instead of beautiful).
Since my upper eyelid hangs over my eye a little, dark shadows, including brown ones, do not suit me on the eyelids themselves. To do this, I use only light colors – blue, pink, white, yellow, light green.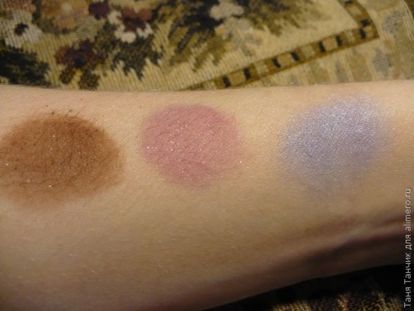 When I need the shadows to not be bright (I don't like bright makeup at all), I apply the shadows in a special way to which I came from practice. I put on the brush a little shadow and put a lot of points throughout the century. Then I connect them with each other with this brush, and then carefully blend. After that, the shadows look as natural and not bright, but noticeable.
Without a base for shadows, they of course roll off. At the base can stay all day. Each thing weighs 0.8 grams and costs 125 rubles.