Essie is a world famous manicure brand. I am delighted with these varnishes, but on my nails they dried out with ugly blisters. I had to fork out for a branded base under the lacquer.
Conflict with the base!
I pay quite a lot of attention to manicure. And I think that fashion has nothing to do with it. This is an elementary accuracy and desire to look well-groomed and beautiful. I choose nail polishes very meticulously, probably I have a peculiar taste.
When I first saw a stand with Essie lacquers in the Rive Gauche cosmetic network, I was simply stupefied with delight. Great choice! Only red varnish more than ten different shades. A gentle nude – so all three rows!
This is an American company, in the permanent collection of which 300 colors of lacquer, and also seasonal ones regularly come out. The lacquer is not cheap: a 13.5 ml bottle costs 300-350 rubles, and the same brand with a world name!
I took several bottles at once. What a disappointment awaited me! After drying on the surface of the nail climbs very ugly bubbles.
A consultant in the store complained about my complaint like a sentence: Conflict with the base !. Well, yes, before applying decorative lacquer, I applied a base for a manicure from another company. And she under these varnishes, it turns out that does not fit. I had to buy a brand, a bottle of 13.5 ml cost 370 rubles.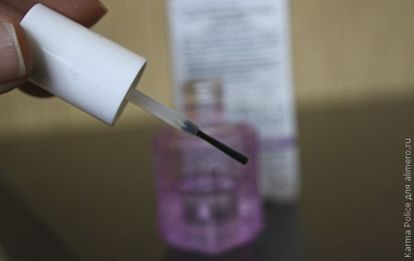 Ultra Strengthening Foundation
I chose not just a base, but a strengthening one. The inscription on the packaging of the strength of a diamond is quite a loud statement, well, so the firm is serious, not a collective farm! It contains valuable and useful argan oil, moisturizing vitamin E and other strengthening ingredients.
The manufacturer promises that Essie Rock solid instantly save your nails from brittleness and delamination. In a week the nails will be 30% stronger! Use the database offered independently or under a decorative coating.
Vial base light purple color, but the tool itself is transparent. On the nails it looks like other transparent varnishes. The brush is not wide, like color lacquers, but thin.
I applied one layer of base, on top – decorative lacquer. Lucky Essie on her behaved perfectly, no more bubbles on the surface was not. And lacquer cool clung to the base, it was possible to wear a manicure until you get tired or grow a nail.
But the promised hardness was not in sight. I tried to strengthen different companies. So, cheaper ones have more effective means.
And, as an independent covering, this base is none; it is exfoliated the next day with a film. When only a third of the drug remained in the vial, it began to thicken strongly.
And another surprise: on this base, varnishes of other companies dried out with bubbles!
In general, the tool, it seemed to me, only for fans of the brand.