I love to let my eyes down and for me the main thing in the eyeliner is that it stays for a long time, does not spread and at the end of the day looks in pristine condition. After reading a lot of reviews about the gel eyeliner from Essens, I bought it in a shade of 03 Berlin Rocks.
Manufacturer (Germany) promises easy application, perfectly thin and clear arrows.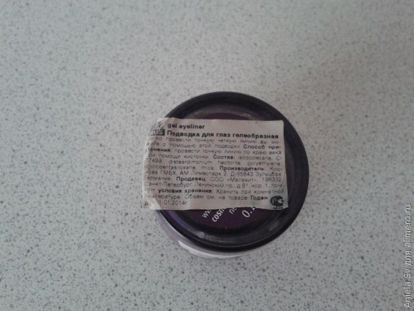 Packaging and appearance
The eyeliner is enclosed in a small neat plastic jar in the color of an eyeliner. A jar is transparent with a thick bottom. The cap is screwed, the partition between the liner and the cap is not, so be careful when buying. On the bottom of the jar is indicated the shade, composition, manufacturer, information is indicated in Russian and English.


Eyeliner gel-like texture, bright saturated dark purple color without a chimmer. There is a slight smell, but not pronounced, it does not bother me, I do not feel it when making up.
Applying and makeup
Since the eyeliner went without a brush kit, I had to buy the eyeliner brush separately. For me, the thinner brush with an even cut turned out to be the most convenient brush, although some use beveled brushes or very thin drop-shaped brushes – well, this is a matter of choice and how used.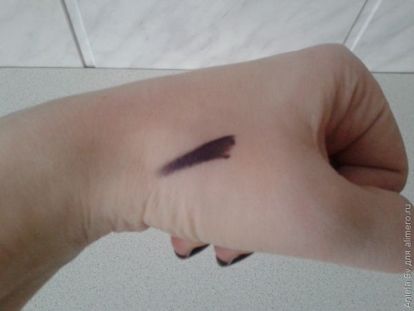 The eyeliner is applied easily, the arrow is drawn from the first layer. The first layer can be a little bald, but the second covers all the flaws and the line becomes clear and bright. Eyelashes do not stain. The eyeliner freezes very quickly, so you need to draw a straight line right away – you cannot fix it anymore.
The eyeliner is very resistant, does not spread throughout the day, does not float, the tip of the arrow does not crack – by the end of the day it looks exactly the same as in the first minutes after application. The color is very beautiful – my favorite is purple (it fits perfectly to my green eyes), perfect for green and brown eyes, combined with almost all shades of shadows.
Most often I use eyeliner with neutral gold or pink shadows. Eyeliner gives my look depth and expressiveness.
Since the eyeliner is very resistant, the usual makeup remover or micellar water does not erase it. I have to use either a two-phase makeup remover or oil-based products.
Ideal liner for lovers of persistent makeup. With it, you can not be afraid for the safety of your makeup. Throughout the day, the liner retains its original appearance. I bought my copy at a discount for 99 rubles.
Do you draw arrows? With using what?