For several years now organic lip balms from TM EOS. And the matter is not only in their natural composition, but also in other characteristics that deserve attention.
In addition, they are used by many stars – from Jennifer Lopez (did everyone carefully watch the Booty clip?) To domestic celebrities, which is also important for many fashionistas who want to be in trend.
Now lip balms and other products of TM EOS can be easily purchased from us or ordered directly from the USA. So I became the owner of a cute pink ball. I hasten to share with you my impressions.
The main principle of the company EOS – organic and natural. All of its products (and not only lip balms) are almost 100% natural ingredients. They do not contain parabens, petroleum jelly and other mineral oils. Extracts and flavors in them, too, are only natural. Recipe based on organic ingredients has all the necessary certificates for the United States.
In addition to the means for the care of the delicate skin of the lips, the line of products also includes hand and body creams and shaving balms.
Still, the main product and the EOS chip is a balm that has spherical packaging. There are many kinds of it, new collections (often limited) are regularly released.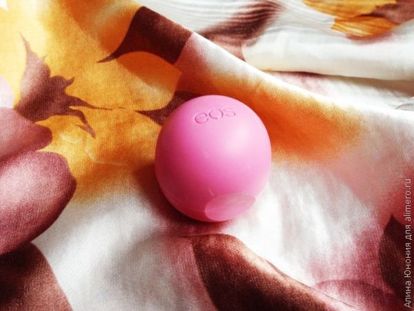 Tastes can be found a variety of – from standard berry to the original coconut, melon, pomegranate, blueberry and even vanilla mint! By the way, there are neutral options that are suitable for men and children, because their lips also need care.
EOS lip balms are not only moisturizing. For example, the Medicinal Mandarin option helps to cope with the symptoms of herpes and fever on the lips, while most other balms also have anti-inflammatory and anti-bacterial effects.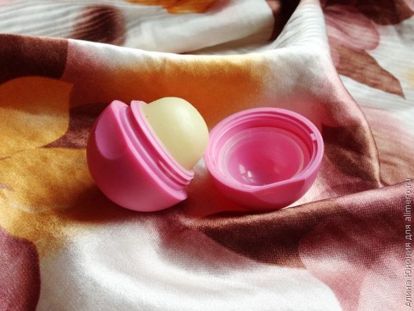 Here, as one would expect, continuous naturalness. Judge for yourself: beeswax, shea butter, vitamin E, coconut, sunflower and olive oils, extracts of plants, berries and fruits.
I had it at first sight – very much original and convenient packaging in the form of a ball of rubberized plastic, which is very convenient to use and store. Balsam closes tightly enough – until it clicks, which makes its storage in a purse absolutely safe.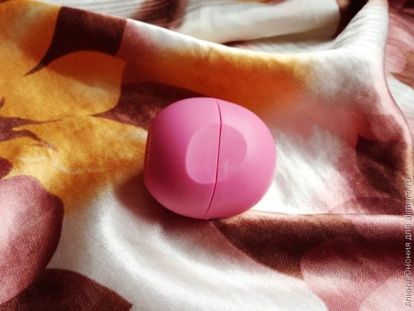 Smell (and I have a strawberry sorbet) – very pleasant, unobtrusive and natural. What is important, the taste of balsam sweet, it is pleasant to feel on the lips. Balsam does not roll at all, does not form a film and is completely invisible.
EOS balm can also be used as a base for lipstick; it lies on it quite well. Within a week, my lips, which in the winter especially suffer from wind and cold, became soft, tender and moisturized.
EOS is used rather sparingly – after a month of daily application, the balsam ball practically did not decrease in size. Probably need to use more often;)
The average price of EOS lip balm in America is 4-5 dollars, you can buy it from us for 100 UAH ($ 300). The price of limited editions may vary.
I am very pleased with my new lip cleaner, this is a great gift option for a girlfriend or child (many are allowed to use from 6 months). Recomend for everybody!
Have you tried the products of TM EOS? What are your impressions?