The highlight of this week was for me piercing…) From the moment of the puncture third hole (second in right ear) passed 18 years. And then the day came when in my left ear more appeared two new puncture! 😉

The last two months I went with this idea, but decided not to hurry too much. Rather, there were other more important things – she got married, she solved family problems, she celebrated her birthday. In general, the hands to the ears in August and September never reached)) We got it in October …
She approached the event quite responsibly. She thought through – what to pierce, who will do it, and what to insert into the new punctures.
Prick decided not a pistol, but catheter. I found him right away several advantages over the gun:

1. Trouble-free sterility – due to the one-time use of the new tool.
2. Acute puncture (needle), but not stupid – the tip of the stud.
3. The ability to insert almost any earrings, and not just studs, as with a pistol puncture.
For the procedure I chose piercer It seems to me that these people have a better hand, because they make a lot of punctures in various (and often difficult to reach!) Places.
But I decided to insert it in the end. your favorite stars Although originally thought about the little rings. But the ones I wanted, I didn't really like those punctures.
So it's done! 😉 Now I have 2 punctures in my right ear, and 3 in my left. I go these days happy as an elephant! ;)) Only a little remains – to ensure the processing of new holes.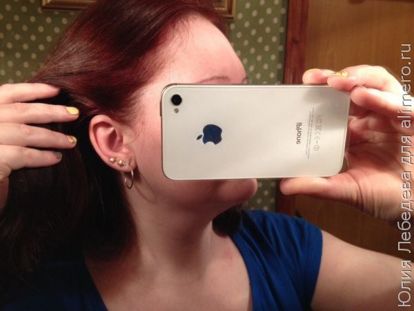 Care for new punctures
When I read various information about piercing, incl. the most traditional – on the earlobes, then met a lot of articles, which told about the care of punctures.
At first I was surprised by how sometimes the information on different resources differed greatly. Then … what kind of nonsense was often in these articles.
So in the end I decided to share my experience (after all, I've been wearing earrings for a total of 24 years), suddenly someone will come in handy …
1. How to handle a puncture?

Versions mass – from levomekol to morning saliva … own production, so to speak))
Personally, I am for medical 95% alcohol and chlorhexidine.
You can take cotton wool, but now I'm more for cotton pads – they have less fiber.
2. How often to process?

Someone advises 10 times a day. In my opinion, this is unnecessary. If there is inflammation, redness, pus – then yes, 5-7 times is fully justified. If everything is fine, then enough once or twice a day.
3. Is it possible to swim?

Some portals strictly prohibit water treatments. But how without a soul? Without shampooing?
On the first day I manage to avoid this by doing everything necessary before the puncture. Well, after that everything in the usual mode, but more accurately – I try not to pour it specifically on the ear, not to touch it. And after a shower for every fireman, I still process punctures with alcohol.
However, from the bath, sauna, swimming pool, I would also advise in the first month (or at least two weeks) to abstain. Still, these are public places …
4. What earrings to insert when piercing?

Of course, the simplest and most convenient option in this case is studs. They are convenient to insert, remove and handle with them fresh punctures. By the way, my carnations without threads on the end, which, in my opinion, simplified my task – because it is easier to remove the buckle from a straight post than to twist it in a spiral.
But fit and ringlets. It is possible and something else. Main criterion, which I advise you to stick with– lightness. Earrings for new punctures should not be heavy. The more weightless, the better.
5. What should the earrings be made of?

On some sites I met strict instructions – earrings made of surgical steel and only they! Another met – only gold!
But on many portals there are still three options – gold, silver, surgical steel. They are equivalent. None of them is worse or better if there is no individual intolerance. But experiments with jewelry is better to postpone for some time.
When I pierced the two main holes, I inserted silver. When you pierce the third – gilded silver. At the last piercing – gold.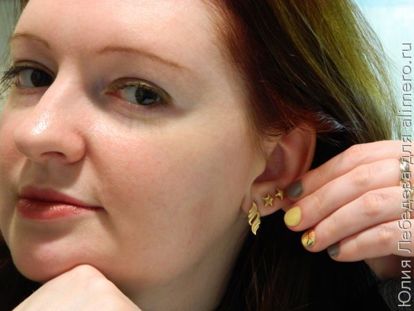 6. Should I take out earrings?

Here opinions differ dramatically! Some articles advise taking out every day or at least once every three days. In others – do not take out a whole month!
I believe that if the earrings are taken out normally, then you can do it once every few days. If there are painful sensations during this procedure, then it is better to wait, but carefully handle the punctures – slightly pulling the pusset forward and pouring alcohol or chlorhexidine into the hole, and also from behind.
7. Is it possible to turn earrings?

And here the opinions are completely opposite! In some articles scream – in any case! In others – be sure to turn every day …
What do I think about this? Just so I do not sit and I do not cheat)) But I think that this no need to be scared, when it comes to studs or thin ringlets.
8. When to pierce?

Many advise doing this in winter. The argument is that bacteria do not multiply in the cold. The reason behind is pretty worthwhile. However, I have a more weighty reason against the winter piercing – hats and sweaters … with them the chances of hurting and injuring the ear punctures are much higher.
And yet, I would especially not tied to the time of year. I think that you need to pierce when you wanted!) So that the energy of the plan did not go away))
Girls, and how many punctures you have and where? Would you like to do more? 😉