Several years ago, as an alternative to the natural manicure in the salons, nail extension came with drawing on them. Today, in any city there are salons that specialize in various areas of manicure.
This topic is dedicated to those girls and women who like to experiment with their nails =)
Are common two methods of nail extension: either on special forms, on either tips.
To use the form it is necessary that there is a free edge of the nail.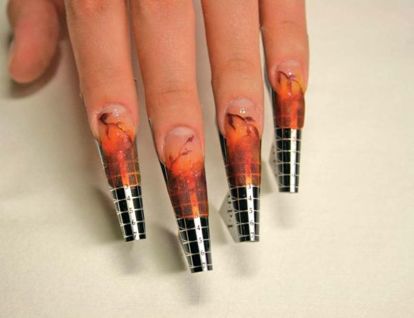 For short nails, the ideal option with tips.


When building is used most often two kinds of material: acrylic and bio gel.
Acrylic weight quite stable, does not crumble and does not break, but has a medical smell, which eventually disappears. There are technologies of building acrylic nails and odorless.
Gel It does not smell, but gel (they are also called glass or porcelain) nails are less durable than acrylic.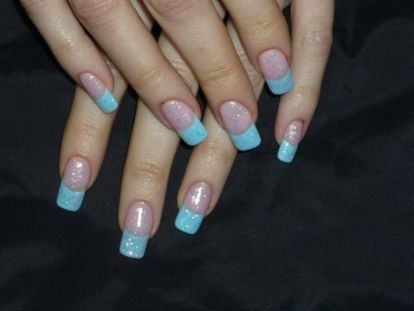 There are also several forms nail extensions, from which you can choose for yourself the one that is most like and comfortable.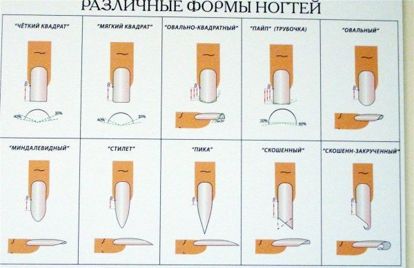 But today we are talking about the drawings on the nails, and let's not forget that they can be applied to their own nails, previously processed.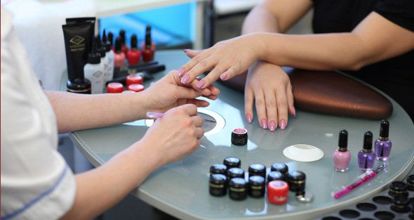 Drawings on nails can be applied in various ways: water-acrylic paints, glitter, brushes of different thickness, sculpted chopsticks, colored powders, varnishes, gel pens. A true professional can make almost any pattern on the nails.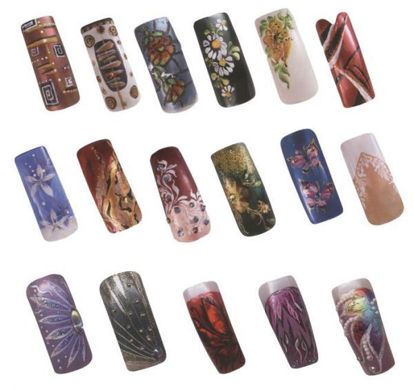 Can highlight two main methods of drawing on nails, creating completely different designs:
1. Fine brush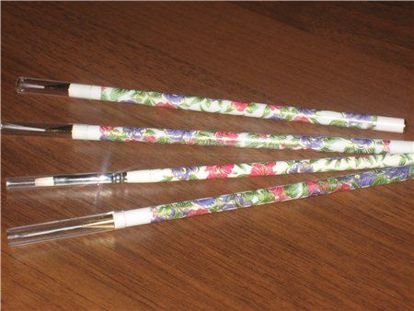 Drawing is carried out on the dried varnish or on the liquid, but in this case the varnishes will be mixed.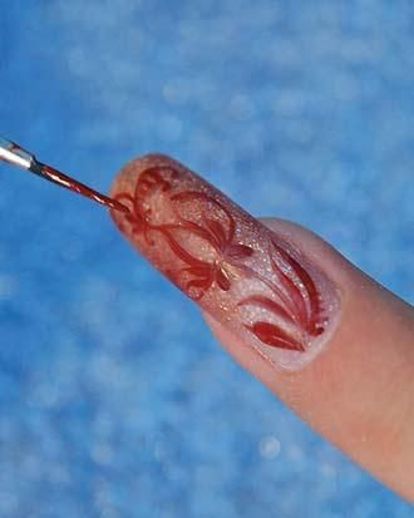 Paint on a liquid varnish. An abundant layer of varnish is applied to the nail, then immediately put a few drops of varnish of a different color and, without waiting for drying, the specialist draws patterns with a needle. At the end of the drawing is covered with a special fixer.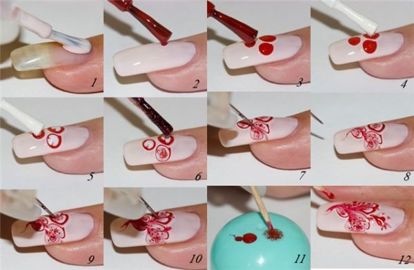 Nail decoration is also common. rhinestones. Small and very light rhinestones can be mounted on the not yet dried varnish. If the rhinestones are larger and are made of glass or metal, then it is better to fix them with glue on a well-dried varnish.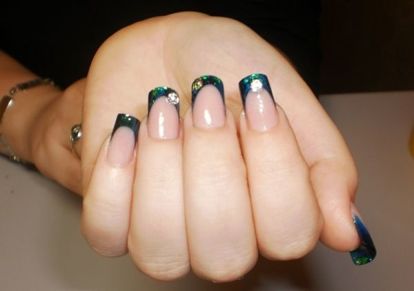 Another common type of nail art is applications. They can be self-adhesive or waterborne.
Self-adhesive application It is a thin film with a printed pattern. It is applied to the already dried lacquer, and then covered with a fixer.
Water application Initially, you need to dip into the water and wait until it is saturated. Then a picture to attach to the nail.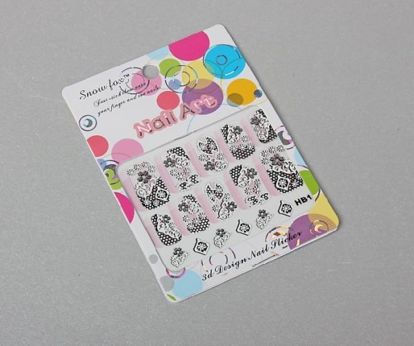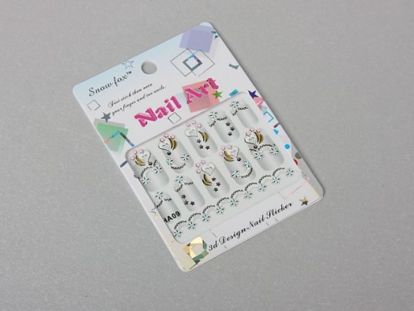 Probably, many wondered: Is it possible to make a drawing on the nails at home?
Can! For this purpose, a special technique has been developed – stamping (stamping is possible, because it comes from the English. stamping – stamping) nail art. This nail painting is not hand-made, but with the help of special stencils.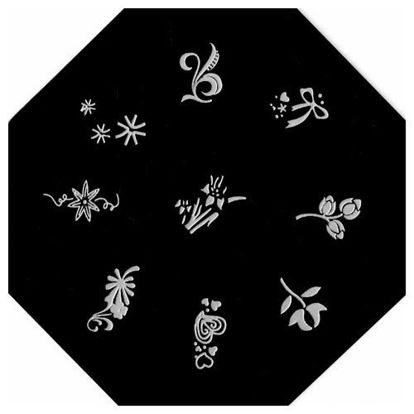 This technique is much simpler and does not require special skills.
Stamping kit: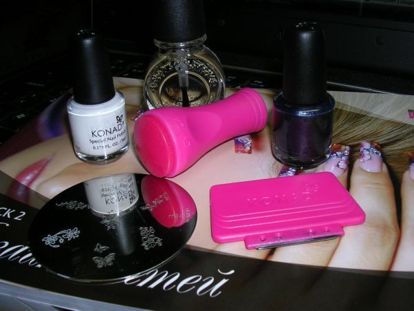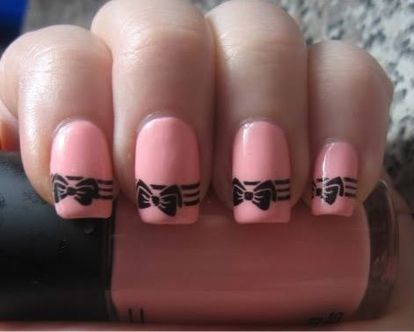 Drawing on the nails using a set of stamping includes the following actions:
one. Apply nail polish on nails, let it dry.
2 On the stencil of applying lacquer (without glitter) or paint.
3 Use a special scraper to remove excess varnish / paint.
four. Using a special rubber stamper, transfer the pattern to the stamp surface with a light touch to the stencil.
five. Transfer the image from the stamp to the nail.

6 Secure the drawing with a clear lacquer applied in a single layer (so as not to smear the drawing).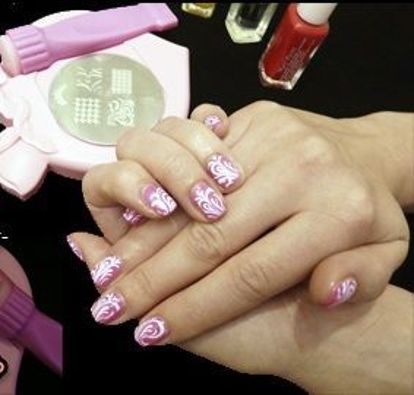 Well, now photos of those nails that I liked the most =)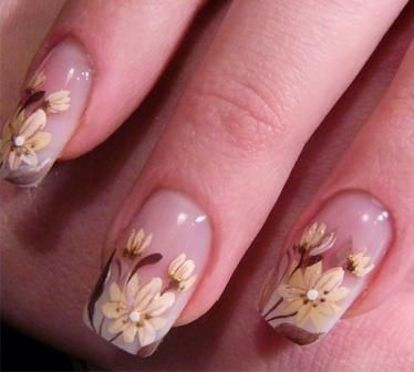 Sculpting nails: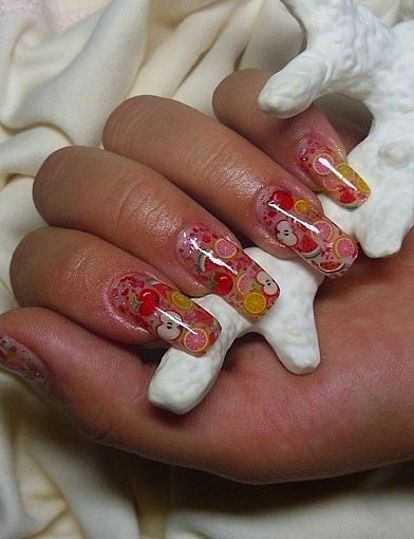 With cracked varnish: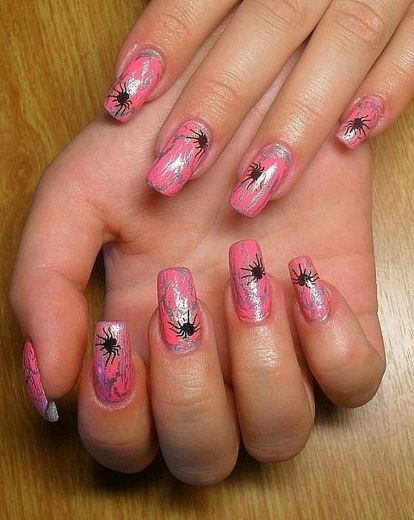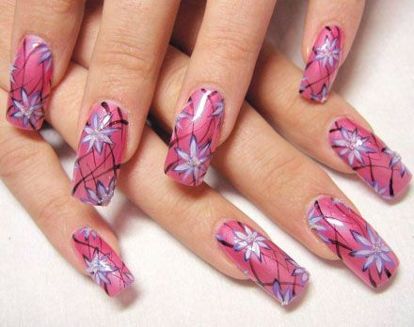 One of the fashionable trends is the application of a grid to a selected area: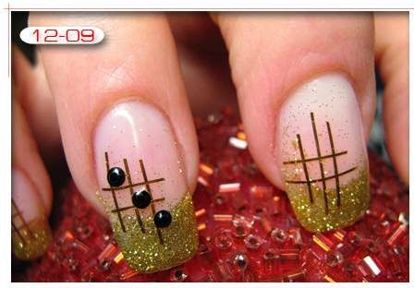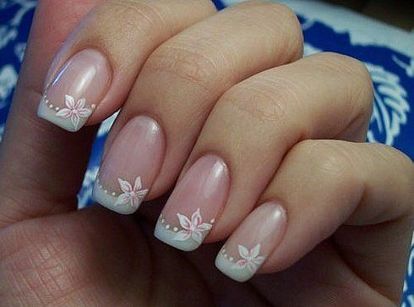 The original solution – the flags on the nails: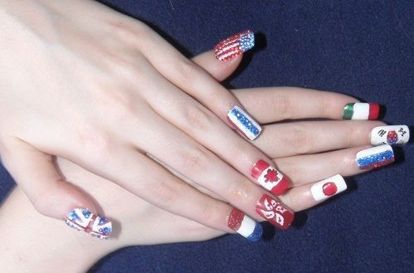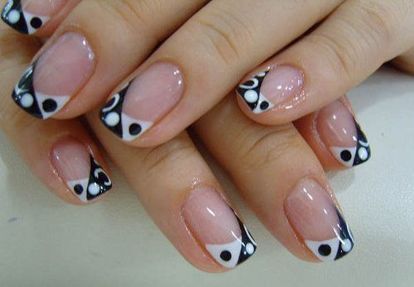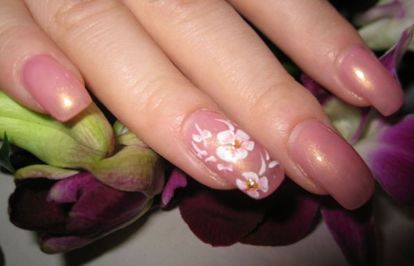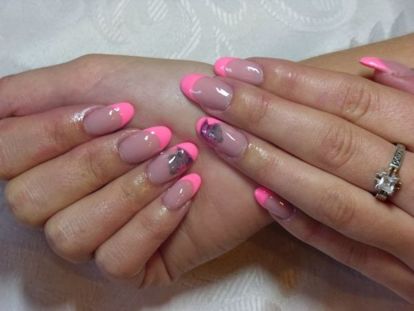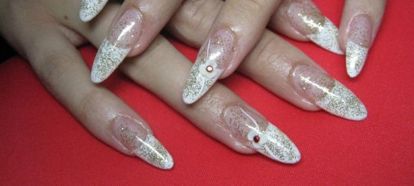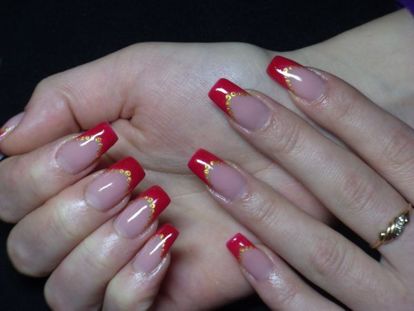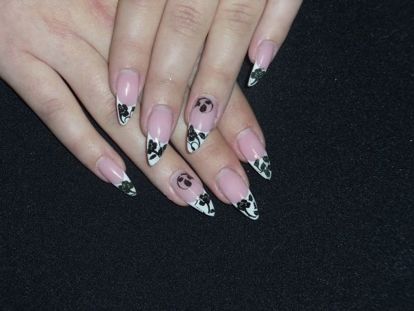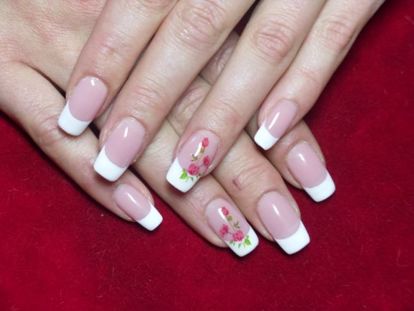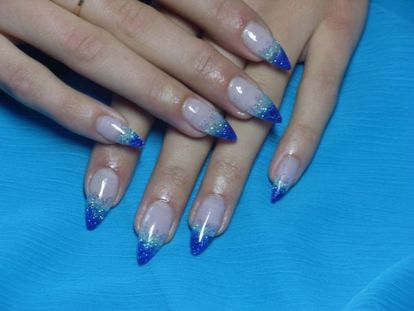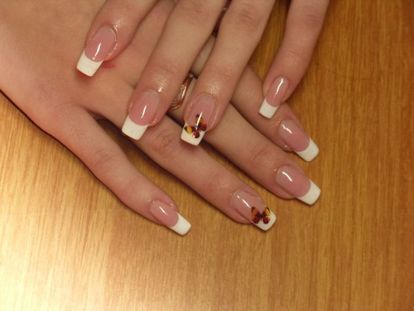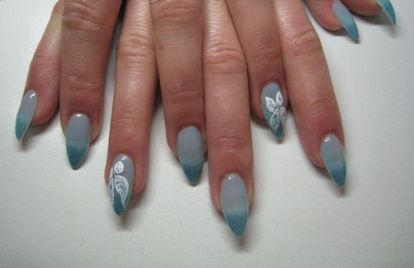 Nail extensions stilettos (gel). One of the fashion trends – aquarium design: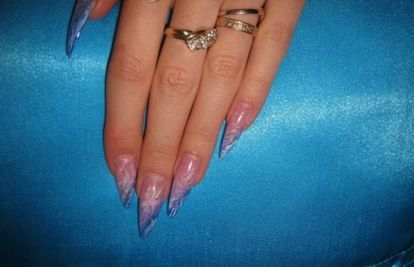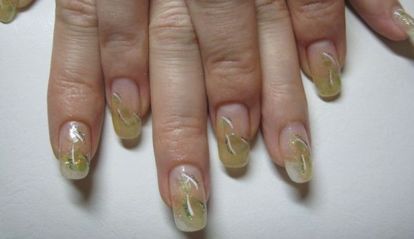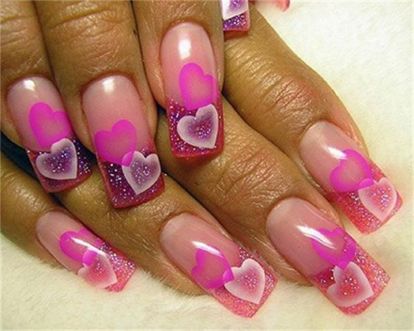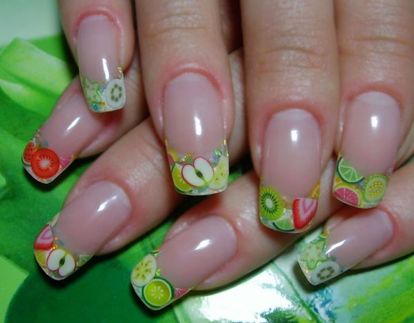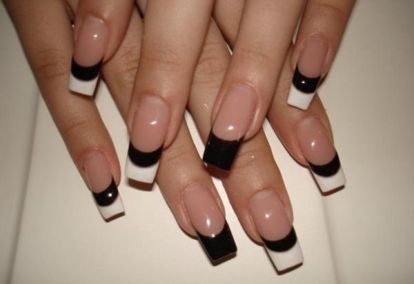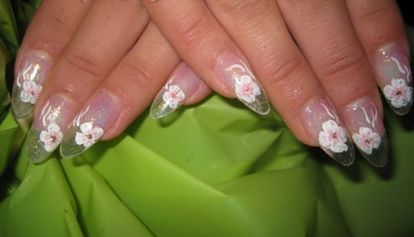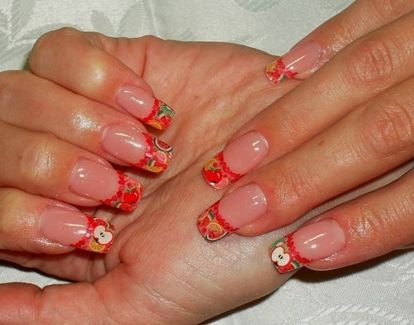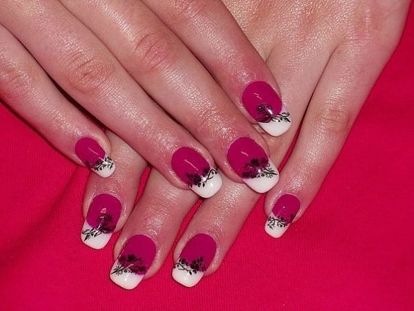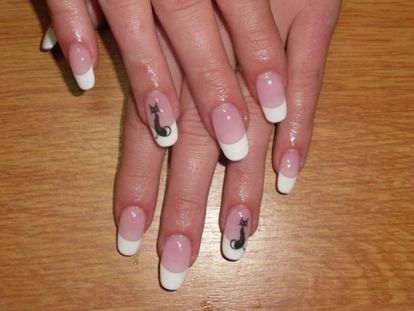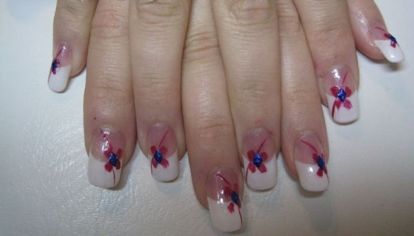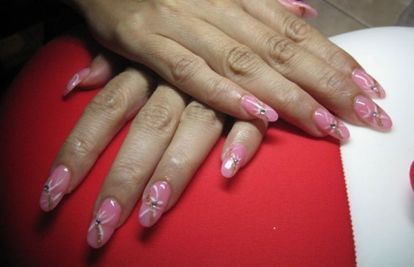 White french oval with pictures (gel):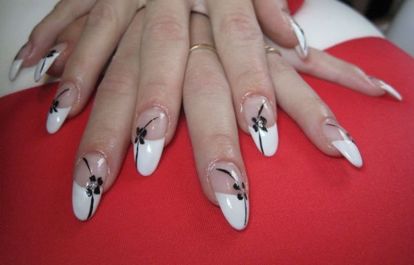 Building color gel: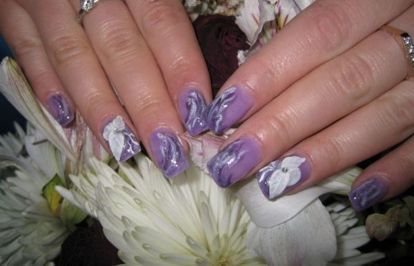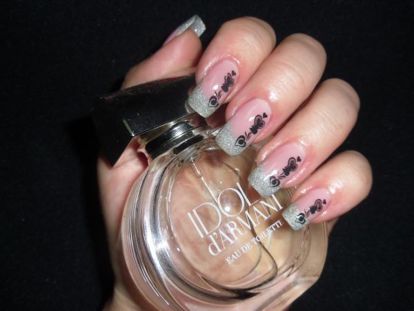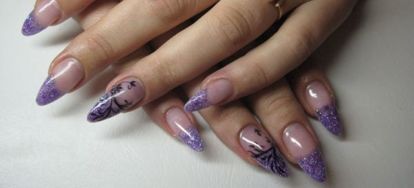 Useful tips:
one. Before starting a manicure, carefully consider the colors of the varnish. If you want the most spectacular manicure, choose colors by contrast.
2 If you want to make a manicure on your own nails, then refrain from using rhinestones. They can leave dent marks on the nail. On extended nails there is no danger to using rhinestones.
3 The most versatile rhinestones – neon or champagne colors, they are suitable for any varnish. Using rhinestones in other colors requires careful selection of colors.

four. You can add a festive accent to the nails with the help of varnish with glitter or glitter. Gold, silver and bronze-colored sequins are universal, can be used with any color of lacquer.
five. Do not overdo it with pictures. If the drawing is simple and unobtrusive, you can perform it on all nails. But if it is bright, contains many colors or rhinestones, it is better to perform it on any one nail, for example, on the nameless.
6 Drawing looks more gracefully on a transparent nail.
7 Show your imagination, your creative abilities in the choice of drawing for nails.
For example, on the ring finger it will be interesting to look at the pattern that is present on your blouse or dress. Or, for example, the logo of your company … =)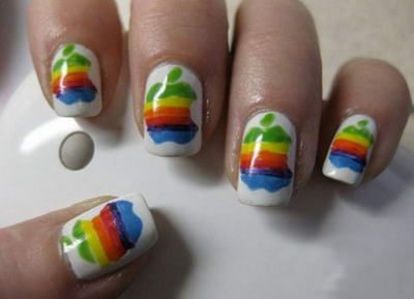 Good master and creativity, dear participants Alimero! =)