When the moment came for me to choose a new hair conditioner, I had no doubt and chose Dove. No disappointments, sheer pleasure.
Creamy texture, aroma not so saturated and very pleasant. Her hair clearly began to look healthier. Increased their brilliance, thickness and strength. I even decided after several applications to check the hairs, which were soft to the touch, and looked as if they were smoothed, although I like the hairstyle to look fluffy.
Dove does not make hair and skin more fat, and it should be washed, as usual. Hair combing after its application is easy, they become light and docile.
Advantages that I was able to assess on myself:
– the texture is similar to the mask (quite thick);
– economical spending. Even a 50 ml probe is enough for two times with long hair;
– wonderful smell. And very steady;
– moisturizes and nourishes the hair. I used to wash hair with shampoo, hair was constantly confused, and now, when I apply a balm, they literally fall into separate strands.
– I had problems with dryness and thickening of hair, and now, after regular use of this hair styling product, I stopped taking foam. Just letting them dry out. The effect is amazing. Sometimes it seems to me that each hair is wrapped in a balm, which allows the hair to slide freely.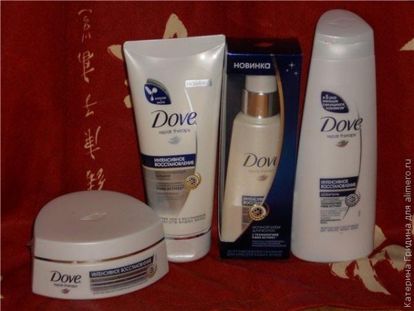 – despite the density, it is perfectly washed off, in contrast to the liquid balms;
– the untidiness of the hair after Dove disappears, they become more heavy, as it were, but this is not because the hair becomes fatter, but because Dove gives it a kind of thickening. Hair styling is quick and easy;
– purity of hair after applying balm-rinser Dove lasts longer. It is enough for me to wash my hair no more than twice a week.
It seemed to me a very unsuccessful packaging. The balm is very thick, so the packaging should be softer so that it is easier to remove the balm from it.
Best would fit a jar. You can still squeeze the remedy out of the full one, and when less than half remains, problems arise. I even somehow had to cut the probe in half to get the rest of the balm.
I want to tell one more secret. When I use Dove's balm, I squeeze it on my palm and add a couple of drops of jojoba oil to the mass. The effect turns out amazing, amplifies several times.