You can change the husband, but not the hairdresser – this is, of course, a joke, but there is some truth in it. In today's article we are not talking about a hairdresser, but about a master who is no less necessary for every woman, a manicure master.
I met my wizard Inna by chance – ten (!) Years ago. Just went to the salon, which opened in the next house. This visit was decisive – all these years I have trusted my hands and feet only to her, and all attempts at forced betrayal have failed.
Case One – Coverage
It would seem that it can be easier than to varnish nails? I am ashamed to admit, but I can only use colorless nail polish. All other colors are applied without flaws fail. It often happens that I just pass by the salon, and I can not help but change the color of the nails to a new one, and at the same time to drink a cup of tea and discuss the latest news.
Besides, due to old friendship, sometimes Inna doesn't even take payment for this service. He says that the reason is in the clients to whom I recommended her – about half of them came from my tip.
Recently, I urgently needed to complement the image with a bright nail polish on the occasion of the celebration of my daughter's birthday. Unfortunately, Inna had a day off, had to go to a rival salon.
Why are there a salon, the usual stand with express manicure, which is now a mass at every step. Cutting manicure in unfamiliar places I am afraid to do, but to cover my nails – why not?
It turned out that here you can spoil everything. Already when covering with a fixer, I noticed that the varnish looks uneven. The master reassured me that this spray from the oil drying, which will soon disappear. Already at home, I noticed that they not only did not disappear, but also turned into terrible bubbles on all nails.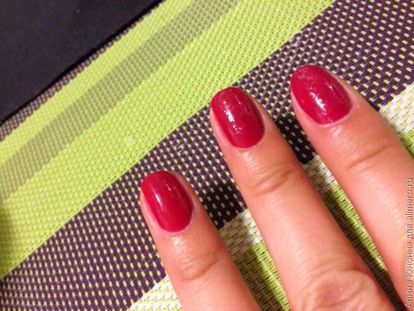 The next day I went to the same master, who said that the reason was in me: I shouldn't have to wave my hands with a dry varnish! Needless to say that the coating itself cost me three times more than in the usual salon.
Second case – heel
This situation is more painful. Again, I urgently needed a pedicure just at the time when Inna was on vacation. I turned to another salon, not forgetting to make sure the instrument was clean.
I wish I had done a pedicure at home! The fact is that because of the unsuccessful movement, the master cut my heel. Only the one who has been through this knows what pain and discomfort it is!
Later, I became a witness of how Inna taught the new girl her skills. Do not believe it, instead of the foot, they used an inflated balloon! If it burst, then the client's foot is cut!
Case three – ingrown nail
This problem is familiar to me firsthand. The nail on the big toe of one foot periodically tends to grow into me – apparently, the reason is that I like shoes with narrow toes.
With the appearance of Inna in my life, I forgot about this problem – she masterfully corrects the shape of the nail so that there can be no question of any growing. However, once I decided to do it myself, for which I paid – again there was a tendency to grow.
I can not but rejoice that I am surrounded by time-tested specialists, many of whom have become my good friends. This is a manicurist, hairdresser, dentist, gynecologist, pharmacist, and even a wax depilation master, with whom we are still close friends, even though I don't use her services.
Do you have masters with whom you completely trust your beauty and health?