Which of us never bought a lipstick that doesn't go? Or a blouse of the wrong color? I think every such thing happened. Here I am, even before I graduated from the school of visage, I couldn't understand why my favorite blouse makes me tired or why with such a beautiful color of shadows my eyes become tearful. But it turned out all very simple. We buy products, the color of which simply does not suit us according to the color type.
In order for you not to commit my mistakes, I will share with you my knowledge.
ANDso what is the color type?


Color Type – this is a palette of colors characteristic of each type of appearance. There are, as in nature, four color types. This is Winter, Spring, Summer, Autumn.
Winter and Autumn color type – these are the main groups. Summer and Spring are subgroups of major groups. And if the main groups are bright colors and contrasting combinations, the subgroups are allowed halftones and shades.
I will tell you how to correctly determine what color type you are. There is a cold color type (Winter, Summer) and a warm color type (Autumn, Spring), and in order to determine whether you are warm or cold, you can look at your hair color (if it is natural or you remember what it is), skin color ( still look at the color of the eyes, but for a beginner it will not be so easy).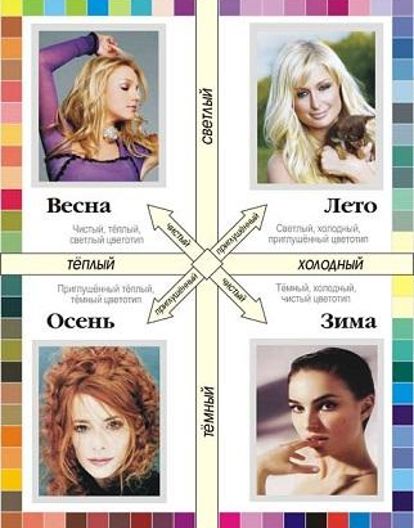 You belong to the cold color type, if your hair is black or the shade of hair turns gray, silver. The skin is cold with an olive or gray subtone. Also, if you are a mulatto, you are also a priori cold. If your hair gives gold, and the skin with a pink subtone, then you are a warm color type.
If you have already identified whether you are cold or warm, you can proceed to the next stage – the definition of who you are: main group or subgroup. Make it not so difficult. If you have a bright, saturated hair color and a bright, expressive appearance, then you definitely belong to the main group.
If you have a sophisticated appearance with not sharp features and color, then you belong to a subgroup. There are, of course, mixed versions (especially if you dye your hair), but this is more likely your mistake in the selection of colors than the exception to the rules …
In more detail about each color type you can read in the following articles.