My attempts to defeat hormonal pigment spots do not yet lead to any noticeable result, so at the same time I am looking for the perfect means to disguise them, which would make it possible to make natural everyday makeup and to hide defects of high quality.


To this end, I bought and tested Dermablend Vichy foundation, which, according to the manufacturer, contains twice as much pigment as usual cosmetic tonal tools and allows you to even out skin tone even in case of severe lesions and defects (burns, scars, wine stains).
For starters, the impressive Dermablend TV commercial. Don't judge a book by its cover:
For those who do not know: This young man's name is Zombie Boy, and all the tattoos on his body are real and permanent.

Advertising is impressive, is not it? At the same time, Vichy is known for always drama drama on its advertising posters, but in real life there are no miracles in using its cosmetics.
As for the cost of Dermablend, the issue price ranges from 1,000 to 1,200 rubles per tube of 30 ml. (depending on the pricing policy of the pharmacy).
Objective: Organoleptic characteristics

Consistency foundation Dermablend does not cause censures – not liquid and not thick, approximately as at usual day cream.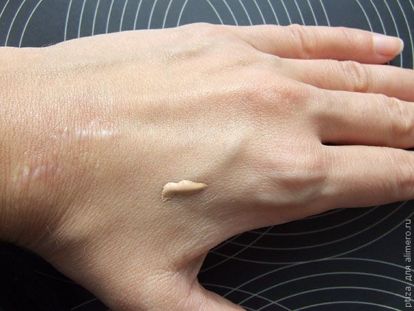 Color spectrum It is limited to three shades (four are stated on the official website, but the darkest one is not in demand at all and therefore practically is not imported into Russia):
– 15 Opal (pale, with a yellowish tinge)
-25 Nude (light with a pink tint, so to speak, blood and milk)
-35 Sand (corresponds to a rather dark shade of tan, also with a pinkish pigment).
Smell – practically absent, and this, of course, is a plus.
Resistance: Stated 12 hours, even on condition of drip moisturizing of the skin.
Subjectively: What does the skin feel?

Consistency, which seemed to be perfect in the tester, on the face it behaves quite problematically – the cream hardly blends and dries the skin. We conclude that it needs a primer, or at least a moisturizing day cream.
Color spectrum causes the biggest criticism: the tone of 15 is too pale (I would say, deadly pale – it scared the household with its appearance, when they looked at me they decided that I was losing consciousness), tone 25 makes the face look like a celluloid doll, and the 35th will do girls warming up in a solarium to the state of a grilled chicken.
The situation is aggravated by the fact that there are no reflective particles already familiar to us in Dermablend creams, and therefore the face looks flat, with a mask effect, no matter how carefully you blend the tool.
Masking properties Dermablend cream is really better than ordinary cosmetic shades. For illustrative example, I pasted a patch of plaster on my forehead and nose and treated it with a tool (15 Opal tone) only half of the problem area of ​​the forehead and nose bridge. Comments, I believe, are unnecessary: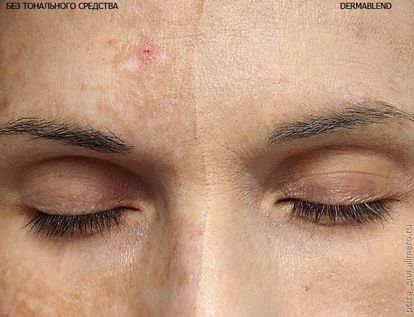 For the purity of the experiment, I applied Dior AirFlash tonal spray on the second half of the face, which I have been using for five years constantly and I love very much for the weightless lightness of the texture.
Dior's masking characteristics are significantly worse, but this is partially offset by a more accurate hit in the natural tone of my skin.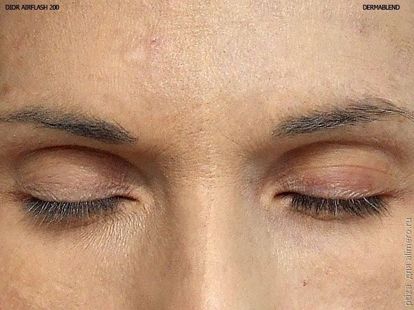 And finally, the most delicate moment – masking acne and skin irregularities. In the last phase of the cycle, I always have ugly, persistent and rather painful pimples, and this is how Dermablend copes with them:
Before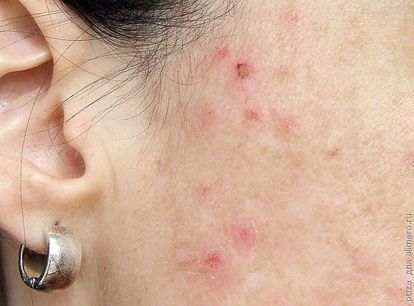 After


Not bad, but not perfect. Perhaps the best masking will be achieved with a two- or three-layer dot application of the product, but it seems to me that this will be too thick a piece of plaster.
Advertising remains an advertisement, with Vichy's characteristic dramatization of the problem and the inability to solve it completely and flawlessly.
I can not say that this is a very unfortunate purchase: I think, over time, I will get used to gently retouch the pigment spots and pimples locally, and apply the usual AirFlash on top of this corrector.
It is absolutely certain that the situation cannot be corrected with Dermablend cream alone, since its color does not correspond to my skin tone at all.