Blush from Bourjois in a small round jar is a real symbol of the brand, this is stated on the official website of the brand, and I completely agree. This legendary tool has been available since 1863! They appeared in my cosmetics bag later, but they also became witnesses of various events, first dates and other pleasant events.
For me, Blush Bourjois is iconic, as they were the first and for a long time the only rouge. And the most amazing thing is that more than five years have passed since the purchase, but they still have not ended and have not deteriorated.
More than just blush
I remember how with thrill I chose my first blush with shade and how I liked this cute jar with the beautiful name Blush Bourjois Paris # 34 Rose D'or.
I think many are familiar with these blush and their special rose scent. So many years have passed, and I still associate this smell with wonderful student years, tender spring and high hopes.
Now I keep this pink box on the dresser rather as a keepsake, as I switch to luxury products, but in moments of nostalgia I enjoy using these truly girlish blush.
My impression of use
Blush Bourjois is very silky, pigmented and easy to apply. Intensity can vary from a light blush to classic Marfushi, if you overdo it 🙂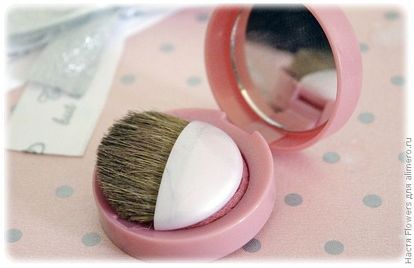 There is a natural nap brush in the set, but, in my opinion, it is useless and very uncomfortable. Although in emergency conditions, if there is nothing more at hand, you can adapt and use it.
Blush hiding in a neat pink box, inside the mirror for the entire diameter. It is very convenient that the lid opens to 180 degrees. Due to the compact size and the fact that the blush is tightly closed with a button, you can safely carry them in your purse.
If we talk about color, it is very interesting. Light pink shade with a beautiful golden shimmer. Unfortunately, the photo does not convey this beauty, but the sun is a real extravaganza. Very gentle, shimmering, give the effect of a healthy blush.
Incredible durability and economy
I enjoyed using these blush for several years almost every day – and they still have not ended! I don't know if it's really possible to do this, because means sooooo economically spent.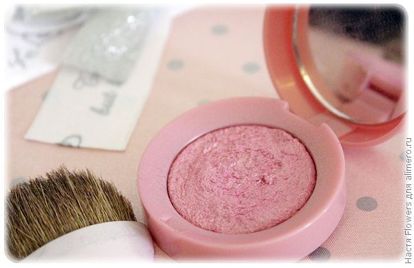 Resistance on my skin at a height, the more I do not like it when the blush is very visible on the face. When compared with luxury blush, the Blush Bourjois Paris is not much inferior, especially considering their not very high price. Already I do not remember exactly how much I bought them many years ago, but they were inexpensive. Now they can be purchased in the range of 250-300 rubles.
The only time you can find fault is the lack of matte shades. If I'm not mistaken, then all is blush from Bourjois with a little shimmer. Otherwise, this is an excellent tool for a relatively low cost.
Beautiful color, pleasant aroma, and in my case also a reason to be nostalgic. In general, I recommend to look at the Blush Bourjois, if you are in search of new blush.