Brand creams Recipes grandmother Agafi I take about three months. When buying, I was attracted by the low price and the wonderful composition, which the manufacturer declared as organic.
In the stores of my city there are no cosmetics of this brand, so I had to place an order in the online store. For the best result, I ordered both day and night cream immediately.
Day face cream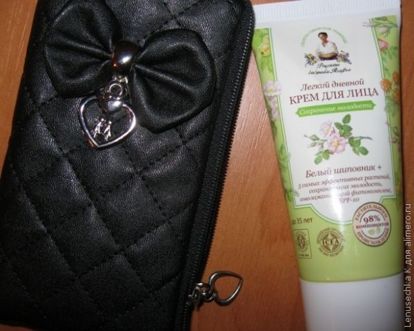 A tube of cream has a volume of 50 ml and is packed additionally in a cardboard box, inside of which there was also a paper insert. On the one hand, the manufacturer describes all the advantages and components of organic cosmetics, on the other hand, family recipes for customers are collected.
The cream contains in its composition white rosehip extract, which starts the process of renewal of skin cells. Also active ingredients are arctic cloudberries, Amur velvet, angelica and blue mallow.
Advantages and disadvantages
The cream has a soft, not too liquid consistency, a pleasant grassy smell and a grayish-beige color. On the skin it is very well distributed, absorbed quickly, does not roll off and does not leave a feeling of stickiness. Consumed very sparingly. I found no flaws.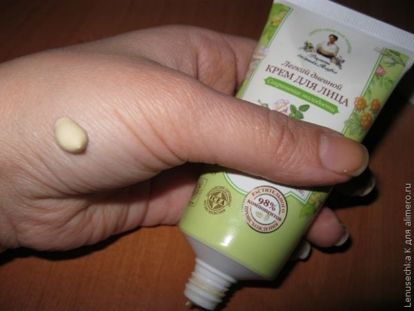 The skin after applying the cream becomes soft and velvety. The cream perfectly removes the signs of fatigue and changes the complexion for the better, giving the skin a healthy glow. Does not leave greasy residue.
Night face cream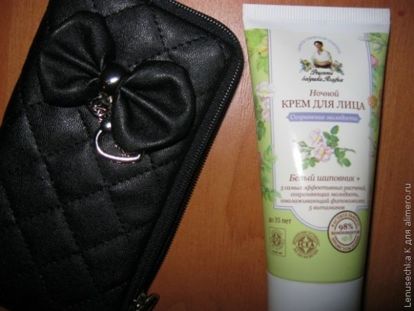 The tube has a volume of 50 ml, also packed in a cardboard box. The cream has a pleasant, non-greasy and non-sticky consistency and a light grassy aroma. The active ingredients of the cream are white rosehip extract, white currant, blue mallow and angelica.
The manufacturer indicates that the formulation of the cream was supplemented with a rejuvenating phytocomplex of a new generation and a number of beneficial vitamins.
Advantages and disadvantages
Night face cream Recipes grandmother Agafi has a pleasant, not greasy texture and white color than the appearance differs from the day cream of the same series. The aroma of the cream is light, grassy. It feels like night cream is less greasy than day cream.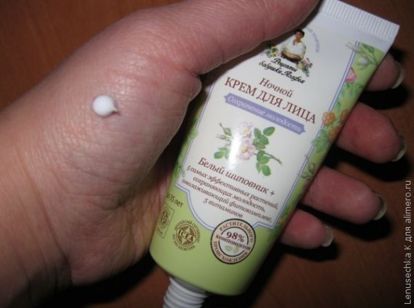 The cream is instantly absorbed, leaving a pleasant sensation of coolness on the skin. Very well moisturizes the skin. The skin becomes softer and velvety.
Have you used creams of the company Grandmother Agafia's recipes? I really want to know your opinion on this matter.