Well, it began the time for normal cucumbers without nitrates, which can not only be eaten, but also used in cosmetics. Cucumber is very nutritious for our skin, so you can make various masks and lotions from it that will make our skin velvety, the complexion is healthy, and the appearance is beautiful.
My husband has become accustomed to the fact that in order for me to be Vasilisa-the Beautiful, I sometimes need to stay and the Princess Frog. When I place thin slices of cucumber on my face and neck, it is really very similar to a frog, but after 15 minutes the skin is so fresh and moisturized that the effect on the face is said to be.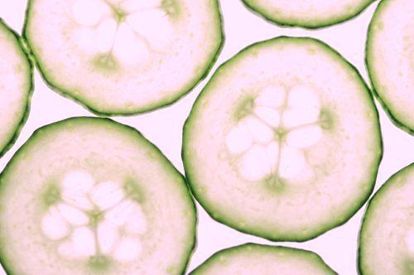 So, the first tool that can be used from cucumber to be pretty – thin cucumber rings cover the clean skin of the face and neck, we lie for 15 minutes. During this period of calm and relaxation, you can listen to light music (classical, meditation or anti-depressive music).
To tone up the skin, you can use frozen cucumber juice, which is rubbed on the skin after washing.
For oily skin, I recommend clearing skin from a piece of cucumber and pouring lemon juice on it. Leave a piece of cucumber in the juice for 1 hour, then rub the skin, and after half an hour wash off with warm water or decoction of herbs (for example, chamomile).
Lotions on a cucumber are also good:
– Lotion for vodka. Cut the cucumber into small cubes and pour vodka. Insist 1-2 weeks in a dark place until the green cucumber. Apply to oily skin concentrated, and for dry skin you need to dissolve such a lotion in half with water and add a little glycerin.
– Lotion on the water. Cut the cucumber into small pieces and pour water. Insist about 6 hours and wipe the skin of the face and neck.
Cucumber masks are very useful, they are not allergenic and are suitable for oily and dry skin, for problematic and normal skin, you just need to choose additional components for the cucumber and you can get a universal cosmetic.

To 1 tbsp. l grated cucumber on a fine grater add one beaten egg white. This mask will help refresh a porous, oily skin with wrinkles.
For dry skin, you can use a different mask: 1 tbsp. l cucumber juice should be mixed with 1 tbsp. l oatmeal flour. It is necessary to apply for 20 minutes, then wash off with warm water.
For aging skin with wrinkles, you can make a rejuvenating mask: 1 tbsp. grated on a fine grater cucumber mix with 1 tsp. honey and apply on the skin for 10-15 minutes. Wash off with warm water. Honey can cause an allergic reaction in people prone to allergies, so be careful with this surprisingly useful mask.
Roses will start blooming very soon, so that you can use another beautiful face mask: rub a cucumber on a fine grater, squeeze 1 tbsp. juice. Mix cucumber juice with 1 tbsp. infusion of rose petals on water and 1 tbsp. cream This mass should be well whipped and applied to the skin for half an hour. Rinse with warm water and lubricate the face with infusion of rose petals.
I know that this is a completely incomplete list of all sorts of applications of cucumber for cosmetic purposes, but I have checked only these easy-to-use tips. And how do you use cucumber in cosmetics? Please share proven beauty recipes =)