Recently discovered a new cosmetics and was very pleased. For a long time this was not. LUSH – fresh handmade cosmetics. Prepare it only from natural products according to its own recipes using a minimum amount of preservatives. Therefore, the shelf life of this cosmetics is very small.
At first I tried a facial scrub. He was given to my sister. The effect I was very pleased – the face was fresh and brilliant. For joy, I used it again the next day. It was a mistake. With my thin and dry skin, scrubs are recommended not more than 1 time per month! In general, I peeled off the entire top layer of skin, and it became inflamed and rough.
Scrub, of course, I did not buy myself. But she got a face mask, eye cream and a face tonic. And now I will tell about each of them in order:
1. Face pack Megamyatnaya LUSH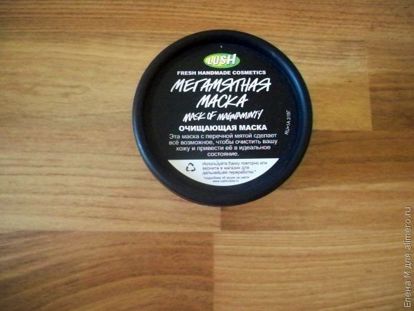 Ingredients: bentonite gel, kaolin, honey, talcum powder, ground beans Aduki (Phaseolus angularis), glycerin, seeds of evening primrose (Oenothera biennis), peppermint oil (Mentha piperita), oil of African marigold (Tagetes erecta), vanilla absolute (Vanned liver) ), limonene *, aromatic composition, chlorophyllin (CI 75810), methylparaben.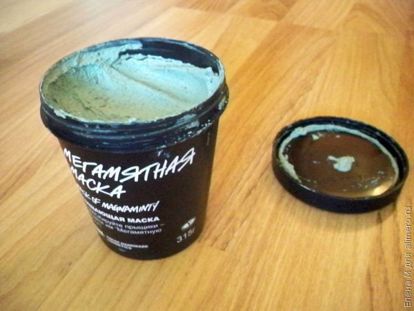 Of course, this doesn't mean anything to me, but the fact that it is mainly natural ingredients is good. Maybe there is someone with a chemical education and will express his opinion on this?
Mask properties The package says that it can really deeply clean the pores of your skin with the help of bentonite and kaolin, which literally draws dirt from the pores. Ground beans and primrose seeds rid the skin of old cells. Emollient marigolds soothe it, and peppermint oil gives a feeling of fantastic purity and freshness. Shelf life 4 months.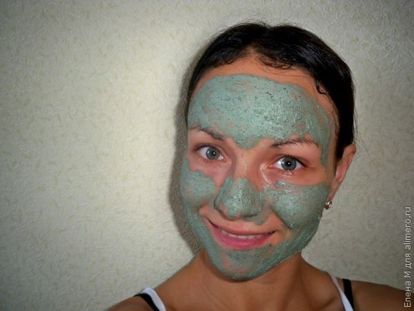 I can not disagree with the above – the skin is, indeed, clean and well-groomed after it. And the mask helps to cope with acne and inflammation. In general, I am delighted with it. I advise everyone who has even minor skin problems!
2. Eye Cream Eye Charming LUSH


Ingredients: lavender water with honey (Lavandula augustifolia, Mel, Aqua), stearic acid, cold-pressed organic almond oil (Prunus dulcis), glycerin, organic jojoba oil (Simmondsia chinensis), cetearyl alcohol, triethanolamine, methyl paraben, propyl parabol, methyl ethanol, triethanolamine, methyl paraben, propyl paraben, propyl parabene, methyl ethanol, triethanolamine, methyl paraben, propyl parabolic oil
Product Description: A simple, gentle and light moisturizer that gently refreshes the delicate skin around the eyes. What is not contained in this cream is a cocktail of preservatives that could provoke puffiness and irritation. But in this unusually light cream there is lavender, infused with honey water, it soothes the skin; glycerin helps retain moisture and acts as a conductor for lavender; Almond oil and jojoba oil slightly moisturize and help eliminate fine wrinkles caused by dry skin.
This is my first eye cream. Previously, frankly, did not use. Therefore, there is nothing to compare with. But I can say one thing that the cream does not cause irritation, nor redness, or any other unpleasant consequences. For my eyes, this is already a big plus.
3. Facial Tonic Living Water LUSH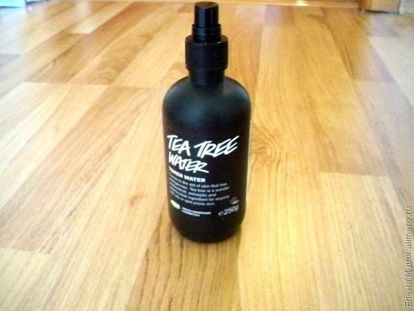 Ingredients: spring water, fresh sea water, Aloe vera (Vera), organic aloe vera gel (Aloe barbadensis), aroma composition, carrageenan extract (Chondrus crispus), rose absolute (Rosa damascena), patchouli oil (Pogostemon cablin), rosemary oil (Rosmarinus officinalis), fucus absolute (Fucus vesiculosus), limonene *, linalool *, methylparaben.
Description of the product on the package: This tonic, moisturizing spray helps to saturate the skin with life-giving moisture, soften it. Removes any residues of cleansing agents, and also is perfectly used as a moisturizer throughout the day. It is made using spring water, fresh sea water, and aloe vera gel with the addition of algae skin softening skin.
Personal opinion: I came tonic. His face is radiant, supple and fresh. Sometimes I use it instead of night cream, but more often during the day to refresh the skin. Universal remedy that will suit everyone.
Unfortunately, LUSH stores are not available in all cities. In my, for example, no. I bought cosmetics in Moscow. Since it was hard for me to keep a lot of different tubes and jars, I limited myself to the most necessary.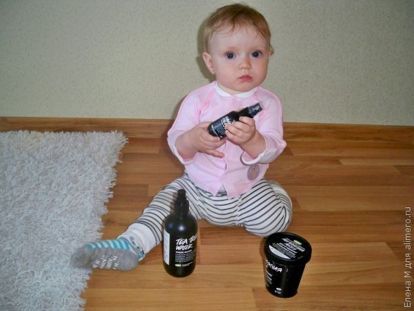 But I plan to continue using this makeup, so I will order it from them on the site. I really want to buy a line for hair care and something from decorative cosmetics.