Hello dear girls! Today I will tell you about the long-known powder Max Factor. I bought it in the spring, but just now I decided to share my feedback with you.
The design of the golden case, as for me, is a very unusual elongated and flat shape. But, nevertheless, very convenient. On top of the cap is the name of the brand.
It stores in itself a case not only powder and sponge in a separate compartment, but also a rather large mirror, which is a huge plus. The lid closes very tightly with a click.
Sponzhik quality. But I still sometimes additionally use a brush from previous cosmetics.
The texture of the powder is silky, delicate and very pleasant to the touch.
Application and resistance
On sponzh powder is typed easily. Applied to the skin weightless.
It lies on the skin with a light, thin and inconspicuous coating. At the same time evens the complexion and hides skin imperfections well.
When applied with both a sponge and brush, it doesn't fluff and fray. The face becomes completely matte, while the powder is not noticeable at all.
Powder is sufficiently resistant to any contact, moisture and high temperatures. With all the natural influences, it does not roll down, does not lubricate throughout the day.
Resistance is excellent, it lasts all day, but it does not float or disappear.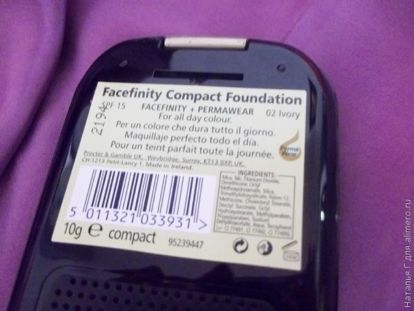 Personal opinion
Powder mattes the skin perfectly.
Keeps face perfect all day long.
Contains SPF15 filters, namely they protect our skin from harmful sunshine.
Perfectly hides redness and minor flaws. Evens the complexion and is almost invisible on the skin.
The packaging is convenient, and due to the fact that the case is flat, it saves space in a handbag or cosmetic bag.
The price is acceptable – 500-600 rubles.
The only negative – it is not very economical consumption. But I turn a blind eye to this, because at this price you can buy this powder more, more and more …