Previously, I did not use rouge, because I thought it was optional. But as I became fascinated with makeup and watching a lot of makeup video tutorials, I came to the conclusion that blush should be used in makeup. I will tell you today about the most tender blush in my collection – Bell 2 skin № 051.
The manufacturer of these blush is Poland. I was familiar with the Bell brand before, but only for nail polishes. I did not use decorative cosmetics of this brand before, but I was presented with these rouge and I was surprised by their high quality.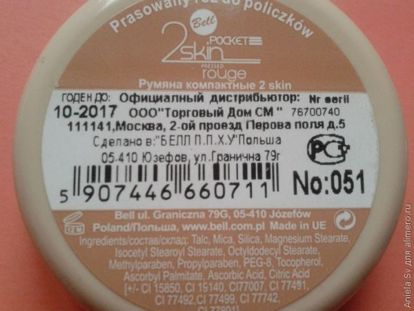 Packing rouge, of course, immediately issues a mass market. Flimsy transparent plastic without a box is not very pleased with the look. I like a strong lock on the lid. It firmly closes the rouge, but also does not allow the nails to break when opened.
On the reverse side of the package there is a brief information about the manufacturer (it turns out that the importer of this brand in Russia is on the next street with my work), its composition and color. True, I did not find any mention of the quantity of the product.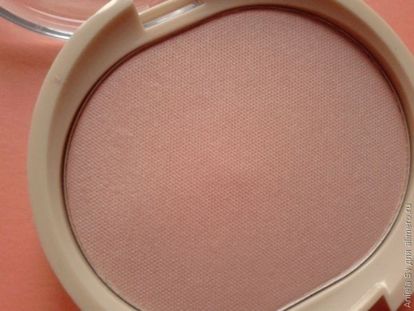 Blush pressed, have a faint pleasant aroma. It is easy to type on the brush, with one touch – they give a very good color to the cheeks – I like it very much.
The shade of blush is extremely delicate – pale pink, such a natural blush. On the tanned skin it is not visible, but the snow white it fits perfectly. Blush is easily applied to the skin and shaded. On my skin are absolutely natural – as if it is my own blush.
I use this blush almost every day, when I use my makeup, they are natural and fit any dress code. I apply on apples of cheeks in a circular motion. When applied to bare skin, they disappear delicately, leaving no residue, by about the middle of the working day. When applied to the foundation – hold up to the evening.
When used for a month, I was not clogged with pores, although I was afraid, since there is talc in the composition, from which my skin usually suffers. The blush is also washed off easily – I remove them along with make-up foundation cream.
Perfect blush at a very affordable price. In the store, they can be purchased for 129 rubles without a discount. In the line of 5 shades – very gentle, so I am thinking of buying some more.
And you used such rouge?